---

---
Rates for simple one-speed cruisers start at about $6 per day (from $30 per week). Tacky pink mopeds start at about $25 per day and $100 per week. The best shops include The Bike Shop , 1110 Truman Ave., 305/294-1073); the Moped Hospital, 601 Truman Ave., 305/296-3344; and Tropical Bicycles & Scooter Rentals , 1300 Duval St. ([tel] 305/294-8136).
---

ORGANIZED TOURS

Yes, it's a bit hokey to sit in these red cars, but worth the embarrassment. The city's whole story is packed into a neat, 90-minute package on the Conch Tour Train , which covers the island and all its rich, raunchy history. The "train's" engine is a propane-powered jeep disguised as a locomotive. Tours depart from both Mallory Square and the Welcome Center, near the intersection of U.S. 1 and North Roosevelt Boulevard, on the other side of the island. For more information, contact the Conch Train at 1 Key Lime Sq., Key West (305/294-5161; fax 305/292-8993). The cost is $15 for adults, $7 for children 4 to 12, and free for children 3 and under. Daily departures are every half hour from 9am to 4:30pm.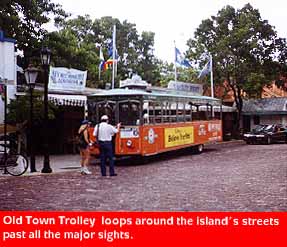 Another option to get a good perspective on this history-packed island is the Old Town Trolley . Drivers maintain a running commentary as the open-air tram loops around the island's streets past all the major sights. The main advantage of this 90-minute tour is that riders can get off at any of 14 stops, explore a museum or visit a restaurant, and then reboard later at will. Trolleys depart from Mallory Square and other points around the island. For details, contact them at 1910 N. Roosevelt Blvd. (305/296-6688). Tours are $16 for adults, $7 for children 4 to 12, and free for children 3 and under. Departures are daily from 9am to 4pm.
For a lively tour of Key West, try a two-hour of Key West's five most famous pubs daily at 2:30. The tour takes an 1 1/2 hours, costs $21 and includes four drinks. Another fun and interesting tour for those into the paranormal is the Nightly Ghost Tour . Cost is $18 for adults and $10 for children. Guests report sightings periodically. Both are offered by Key West Tour Association. New in 1998 is a cemetery tour at 10:30 am. ([tel] 305/294 WALK).
---

SIGHTS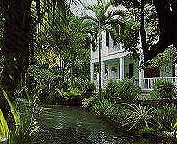 Audubon House & Tropical Gardens . 205 Whitehead St. (between Greene And Caroline streets), 305/294-2116. www.audubonhouse.com. Admission $7.50 adults, $3.50 children 6-12. Daily 9:30-5pm (last admission at 4:45). This well-preserved home dating from the early 19th century stands as a prime example of early Key West architecture and life. Named after the renowned painter and bird expert, John James Audubon, who was said to have visited the house in 1832, the graceful two story home is a peaceful retreat from the bustle of nearby Duval Street and Mallory Square. Included in the price of admission is a self-guided audio-tape tour that lasts just under half an hour. With voices of several characters from the house's past. See rare Audubon prints, gorgeous antiques, historical photos and lush tropical gardens and, while you are at it, learn a little about the island's colorful history. Even if you don't want to spend the time and money to explore the grounds and home, check out the impressive gift shop which sells a variety of fine mementos at reasonable prices.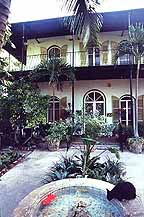 Ernest Hemingway Home and Museum , 907 Whitehead St. (between Truman Ave. and Olivia St.). 305/294-1575 or 305/294-1136. Admission $6.50 adults, $4 children. Daily 9am5pm. One-time Key West resident Ernest Hemingway has become somewhat of a touristic icon down here; the novelist's gruff image is emblazoned on T-shirts and mugs and is used to sell everything from beer to suntan lotion. Hemingway's particularly handsome stone Spanish Colonial house was built in 1851 and was one of the first on the island to be fitted with indoor plumbing and a built-in fireplace. The author lived here from 1928 until 1940 along with about 50 six-toed cats, whose descendants still roam the walled-in premises and beyond. It was during those years that the Nobel Prize winner wrote some of his most famous works, including "For Whom the Bell Tolls", "A Farewell to Arms", and "The Snows of Kilimanjaro." Fans may want to take the optional half-hour tour. It's interesting and included in the price of admission.
Key West Cemetery . Entrance at Margaret and Angela sts. Free admission. Daily dawn to dusk. Tours can be arranged by calling 305/294-WALK. Epitomizing the quirky Key West image, this funky and picturesque cemetery is as irreverent as it is humorous. Many tombs are stacked several high, condominium styleÑthe rocky soil made digging 6 feet under nearly impossible for early settlers. And pets are often buried beside their owners. Many of the memorials are emblazoned with nicknames -- a common Key West informality that's literally taken to the grave. Look for headstones labeled "The Tailor," "Bean," "Shorty," and "Bunny." Other headstones also reflect residents' lighthearted attitudes toward life and death. "I Told You I Was Sick" is one of the more famous epitaphs, as is the tongue-in-cheek widow's inscription "At Least I Know Where He's Sleeping Tonight."
East Martello Museum and Gallery . 3501 S. Roosevelt Blvd., 305/296-3913. Fax 305/296-6206. Admission $6 adults, $2 children 812, free for children 7 and under. Daily 9:30am5pm (last admission is at 4pm). Adjacent to the airport, the East Martello Museum is located in a Civil Warera brick fort that itself is worth a visit. The museum contains a bizarre variety of exhibits that, collectively, do a thorough job interpreting the city's intriguing past. Historical artifacts include ship models, a deep-sea diver's wooden air pump, a crude raft from a Cuban "boat lift," a supposedly haunted doll, a Key West style children's playhouse from 1918, and a horse-drawn hearse. Exhibits illustrate the Keys's history of wrecking, sponging, and cigar making. And if all that's not enough, the museum also exhibits modern works by local artists. After seeing the galleries, climb a steep spiral staircase to the top of a lookout tower for good views over the island and ocean.
Key West Aquarium . 1 Whitehead St. (at Mallory Square/Front St.). [tel.] 305/296-2051. Admission $8 adults, $4 children 4-12. Free for children under 4. Tickets are good for two consecutive days ( a bonus for kids with short attention spans). Look for discount coupons from local hotels, Duval Street kiosks, and from trolley and train tours. Daily 10am-6pm. The oldest attraction on the island, the Key West Aquarium is a modest but fascinating exhibit. A long hallway of eye-level displays showcase dozens of variety of fish and crustaceans. See delicate sea horses swaying in the backlit tanks. Kids can touch sea cucumbers and sea anemones in a shallow touch tank in the entry way. If you can, catch one of the free guided tours offered daily at 11am, 1, 3, and 4 pm. Then you'll witness the dramatic feeding frenzy of the sharks, tarpon, barracudas, stingrays and turtles.
Key West Lighthouse Museum . 938 Whitehead St., 305/294-0012. Admission $6 adults, $2 children 712, free for children 6 and under. Daily 9:30am5pm (last admission at 4:30pm). When the Key West Lighthouse was opened in 1848, many locals mourned. Its bright warning to ships signaled the end of a profitable era for wreckers, pirate salvagers who looted reef-stricken ships. The story of this, and other Keys's lighthouses, is illustrated in a small museum that was formerly the keeper's quarters. When radar and sonar made the lighthouse obsolete, it was opened to visitors as a tourist attraction. It's worth mustering the energy to climb the 88 claustrophobic steps to the top, where you'll be rewarded with magnificent panoramic views of Key West and the ocean.
For those who tire of crowds, perhaps the most perfect retreat is Nancy's Secret Garden , a peaceful shade garden nestled amid Key West's busy downtown. Nancy Forrester opened her haven to the public in 1994 in an effort to raise money to keep up the maintenance on this 1-acre miracle. She calls the site, which includes a small gallery and gift shop, a work of "installation art." There are no explanatory signs or recorded descriptions. This is a place for people who aren't looking to be educated, entertained, or enlightened. With the help of dedicated volunteers, she keeps the place open from 10am until 5pm every day. For a fee of $6, picnickers, nature lovers, or tourist-weary travelers can escape to the serene spot. To get there, walk down Duval Street, away from Mallory Square. Turn left on Fleming, and after one long block, turn right onto Simonton Street (just behind the Marquesa Hotel). On your left there will be a tiny alley named Free School Lane. The garden is ju st beyond the swinging wooden gates. There may or may not be a sign -- Nancy can't decide.
---
---