---



ade famous by the songs of Jimmy Buffet and as the backdrop of many of Ernest Hemingway's exploits,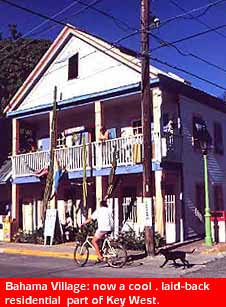 the Key West of years ago has undergone a transformation from low-key island to bustling tourist destination. More Bourbon Street than Nantucket, this once seedy town Hemingway and his cronies once called their own now has a Hard Rock Cafe, lots of souveneir shops and thousands of visitors daily from cruise ships and points north, who descend on Mallory Square to watch the legendary sunsets.

Little pockets of paradise can be found in the courtyards of the many splendid B&Bs, in galleries, in the hip hangouts of Bahama Village, and, of course, on the sea.

The heart of America's southernmost town offers restaurants, lively bars, interesting, funky music, rickshaw rides and lots of shopping. Don't bother with a jacket, stockings, a tie or even a watch. This is the home of the perennial vacation.

With an average daily high temperature of 81.9 degrees F and an evening low of 73 F, this little island, situated between the Atlantic Ocean and the Gulf of Mexico,

Click here for a close-up of map of Key West

enjoys sunny days with occasional tropical showers and cooling breezes well into the evenings. Key West's temperate evening atmosphere no doubt contributed to its developing into a legendary party town.

Click the many links on the left for more in-depth information about this fantastically unique "Southernmost City in the U.S."
---