Reservations for
Florida State
Parks are now
made through
Reserve America,

toll free, at
1-800-326-3521
TOMOKA STATE PARK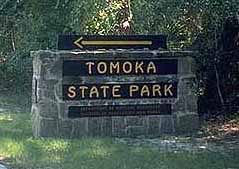 Located near the confluence of the Tomoka and Halifax rivers, Tomoka State Park offers scenic oaks and camping where early native Americans once lived off the fish-filled lagoons. Camping, canoeing, fishing, boating, picnicking and nature trails are available. Swimming is not permitted in the rivers within this park. A museum and visitor center houses exhibits on natural and cultural history and various works by artist Fred Dana Marsh.
---
CAMPING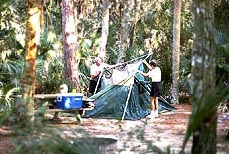 The park has one hundred (100) campsites. Each site has a picnic table, grill and water. Sixty-four (64) sites also have electric hook-ups. None of the sites have sewer hook-ups but there is a dump station located within the park. The sites vary in size. Due to the age of the campground, size of the sites, and amount of large trees, camping rigs larger than thirty-four feet (34') in length and eleven feet (11') in height are prohibited from camping in this park. There are only a few sites that are of sufficient size to accommodate rigs this large. Reservations can be made up to eleven (11) months in advance from the day you wish to arrive.
---

BOATING
A boat ramp is located in the park allowing boaters access to the Tomoka River and its surrounding tributaries.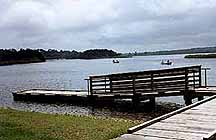 All of the waters in the vicinity of the park are a designated manatee sanctuary. Boaters should use extreme caution while navigating these waters to help protect this endangered marine mammal. Idle and slow speed zones are enforced.

CANOEING
Canoe rentals are available from the Ranger Station. The rivers and tributaries offer a beautiful place to observe the varied bird and marine life of the area. Canoeists are advised to use the rivers and creeks and not to venture into the Tomoka Basin except on very calm days. This large, open body of water can get quite choppy during windy conditions and sudden summer thunderstorms
---

FISHING
The waters surrounding the park are popular for fishing. A survey by the Florida Marine Research Institute has identified 90 different species of fish in the Tomoka River. This includes important game fish such as red drum, black drum, sheepshead, spotted seatrout, common snook and tarpon. A saltwater fishing license is required for non-residents and for those fishing from a boat. Size and bag limits are strictly enforced. All of the current regulations are available at the park.
---
PICNICKING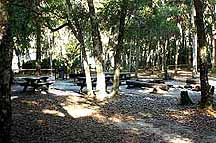 Tomoka State Park offers five (5) separate picnic areas throughout the park. There are covered pavilions with grills located at these areas for larger groups..
---

WILDLIFE
Tomoka State Park has a variety of trees, shrubs and wildflowers. Approximately one hundred fifty (150) plant species have been recorded. The park is noted for its live oak hammock with arching limbs covered with Spanish moss, resurrection fern and green-fly orchid. Some unusual plants grow under the hammock canopy including Indian pipe, spring coralroot and Florida coontie. Wild coffee and tropical sage can be found on shell midden sites.

Tomoka State Park contains a variety of wildlife habitats and protects several rare and endangered species. The best known animal in the park is the West Indian manatee. Manatees are seen in the Tomoka River and tributary creeks in spring and summer. Bottlenose dolphin occasionally surface in the lower Tomoka River. River otter inhabit marsh creeks and the American alligator is a familiar river resident. There are excellent bird watching opportunities at Tomoka State Park. Approximately one hundred sixty-five (165) species of birds have been observed in the park and surrounding waters. The hammock forest is active during the spring (April-May) and fall (Sept.-Oct.) migration when many species of songbirds, including the colorful wood warblers, move along the Atlantic Flyway. The bald eagle, peregrine falcon and northern harrier are seasonal inhabitants of Tomoka Basin. Fall and winter months are best for birds-of-prey. A variety of wading birds, including egrets, herons, wood stork and white ibis, feed in tidal creeks and marshes.
---

NATURE TRAILS
Tomoka State Park has several trail options to offer its visitors. A one-half (1/2) mile interpretive trail winds its way through the oak hammocks that were once inhabited by Timucuan Indians. Visitors will pass through the ancient Timucuan village site of Nocoroco, a once thriving community along the banks of the Tomoka River. Using a little imagination one can visualize what it might have been like to live here a thousand years ago. At nearby Bulow Creek State Park is a six (6) mile hiking trail maintained in conjunction with the Florida Trail Association. This trail meanders through oak hammocks, pine flatwoods and freshwater swamps. There is a primitive campsite located along this trail for the more adventurous. Everything must be packed in and packed out. Biting insects can be annoying during the warmer months. Hikers should be prepared for them and bring along insect repellent.
---
---


Tomoka State Park is located three miles north of Ormond Beach on North Beach Street.
For more information contact:
Tomoka State Park
2099 North Beach Street
Ormond Beach, Florida 32174
(386) 676-4050