THREE RIVERS STATE RECREATION AREA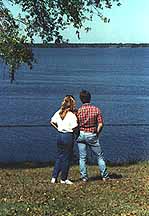 It has been said that all rivers run to the ocean; but at Three Rivers State Recreation Area, all rivers run yet into another river. When the Chattahoochee and Flint rivers merge to form the Apalachicola River, the result is a peaceful, natural setting that offers the perfect opportunity to "get away from it all."
---

HISTORY
This 682 -acre park was acquired in 1955 and occupies two miles of shoreline on Lake Seminole at the Florida-Georgia border. The lake was formed by flooding a vast river swamp when the Jim Woodruff Dam was completed in 1956 for the production of hydroelectricity.
---

GEOGRAPHY
The high hills and many ravines similar to the Appalachian Mountain Range has a lot of the same type plants, consists primarily of hardwood hammocks and high pine land communities.
---

WILDLIFE
Wild life such as white tail deer, fox squirrel, gray fox, bobwhite, and others roam through out the park. The high pine land is where the gopher tortoise, long leaf pine, and wire grass live.

The lake consist of 37000-acres and extends into Georgia. Alligators as well as Alligator snapping turtles are commonly seen around the lake. Fishing is a popular activity at the park since Lake Seminole is well-known for its yields. Largemouth and smallmouth bass, catfish, bluegill, speckled perch, and bream are some of the fish that might be landed by anglers. A Florida fresh water fishing license is required for persons 16 years of age or older.
---

TRAILS
A leisurely walk along the nature trail is an ideal way to enjoy both wildlife and natural features of the park. A variety of wild flowers are observed most of the year, including Red Bud, Dog Wood, Magnolia, and a wide variety of herb type plants. Birding can be enjoyed most of the Winter with the migration of water fowl on the lake and various song birds most all the time.
---

FACILITIES
Camping is permitted in the Lakeside Campground. The Highlands youth camp site is also available for groups.

Facilities include a boat ramp and 100-foot fishing pier. Canoe rentals are available at the park.
---
---


Three Rivers State Recreation Area is located on S. R. 271, two miles north of Sneads.
For more information, contact:
Three Rivers State Recreation Area
7908 Three Rivers Park Road
Sneads, Florida 32460
850/482-9006
View Larger Map