Reservations for
Florida State
Parks are now
made through
Reserve America,

toll free, at
1-800-326-3521
RAINBOW SPRINGS STATE PARK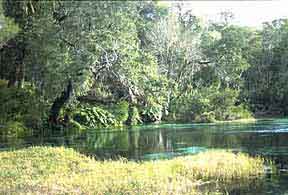 Rainbow Springs State Park, once the site of the old Rainbow Springs Attraction, is Florida's third largest spring. The springs basin or "headwaters" of the Rainbow River, the azalea gardens, the river wetlands, and sandhill pine forest are home to many species of plants and animals.
---

HISTORY
Historic sites date from the era of the early Native Americans nearly 10,000 years ago.

Starting in the 1930s, the first effort had begun to develop the headwaters as a tourist attraction.
---

ACTIVITIES & EVENTS
Activities offered include camping, swimming, picnicking and garden. Canoes and inner tubes are available for rent at the campground. Park facilities are available for special events.

In February and March, azalea gardens are in bloom throughout the park. With the support of volunteers, Rainbow Springs hosts special events several times during the year.
---
For camping information write:
18185 S.W. 94th St.
Dunnellon, FL 34432
352-465-8555
---
---


Rainbow Springs State Park is located 3 miles north of Dunnellon on the eas side of U.S. Hwy. 41. The camping entrance is located 2 1/2 miles north of C.R. 484 off S.W. 180th Avenue St.
Contact:
Rainbow Springs State Park
19158 S.W. 81st Pl. Rd.
Dunnellon, FL 34432
352-465-8555