PONCE DE LEON SPRINGS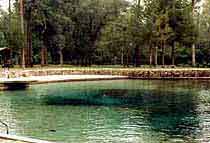 Ponce de Leon Springs is thought by some to be Ponce de Leon's "fountain of youth."
The sparkling clear 68 degree natural spring water certainly gives visitors of all ages a refreshing feeling of youth. The spring consists of two flows from a limestone cavity, which produce approximately 14 million gallons of water daily. The spring run flows into Sandy Creek, which eventually flows into the Choctawhatchee River several miles to the south.
---

RESOURCES
The spring provides year-round 68 degree water for swimming and sunning. The uplands include nature trails for a leisurely walk or nature study, picnicking and access to fishing along Sandy Creek.
---
---


Ponce de Leon Springs State Recreation Area is located one half mile south of U.S. 90 on C.R,181-A.
Contact:
Ponce de Leon Springs State Recreation Area
2860 Ponce de Leon Springs Road
Ponce de Leon, FL 32455
(850) 836-4281 or (850) 638-6130