Reservations for
Florida State
Parks are now
made through
Reserve America,

toll free, at
1-800-326-3521
MANATEE SPRINGS STATE PARK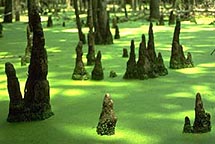 Cypress "knees" are above-water roots
which take in oxygen.

Opened to the public in 1955, Manatee Springs State Park offers an array of opportunities for enjoying the "Real Florida" outdoors.
---

THE SPRING
The most prominent natural feature in the 2,075-acre park is Manatee Spring itself. A first-magnitude spring, it produces 81,280 gallons of crystal-clear water every minute or approximately 117 million gallons daily. Water from the spring run flows into the Suwannee River and then meets the Gulf of Mexico 23 miles downstream. A boardwalk next to the spring run offers a view of the river swamp which is alive with cyrpress, gum, ash and maple trees. The boardwalk ends at a pavilion and a floating boat dock out on the scenic Suwannee River.
---

WILDLIFE
Animals frequently spotted in the hammock and sandhill communities of the park include white-tailed deer and various small mammals and birds. The manatee, an endangered species for which the park is named, can also be viewed from the boardwalk. The constant 72-degree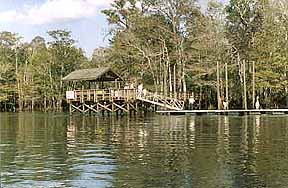 Manatees can be viewed from the boardwalk.

temperature in the spring provides a warm refuge for the large, gentle mammal during the fall and winter months. Manatee sightings occur year round with the best viewing months being January through April.
---

ACTIVITIES
Activities at the park include picnicking, fishing, swimming, canoeing, boating access nearby, hiking and biking on the 8.5-mile north end trail system, scuba diving, nature study and camping. Picnic pavilions are available to reserve for family and business get-togethers.
---

DIVING
Scuba divers must present their certification upon registration. Open water, cavern and cave diving is available in Manatee Spring or Catfish Hotel Sink. Dive instructors are required to purchase a Commericial Dive Permit.
---
FACILITIES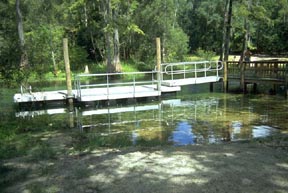 The camp areas have full-facility restrooms, water, picnic table and ground grill. Campfires are permitted in the ground grill. The campsites are located in a hammock of towering oaks, magnolias and hickory trees. Thirty amp electrical service is also available. A youth camp for organized youth groups is also available. Reservations are accepted and recommended for campsites. The park concession offers food, drinks, gifts, camper supplies and canoe rentals.
---

TOURS AND EVENTS
Interpretive programs such as nature walks, slide and video programs, discovery wagon tours and ranger talks, are offered to answer questions and educate the public about the resources found in this park and others. Park special events include Treasure Hunts on Memorial and Labor Days, "Ol Fashioned River Party" in April, and the "Manatee Springs Christmas Festival" in December.
---
---


Manatee Springs State Park is located at the end of S.R. 320, off U.S. 98, six miles west of Chiefland.
Contact:
Manatee Springs State Park
11650 N.W. 115th St.
Chiefland, Florida 32626
(352) 493-6072