Reservations for
Florida State
Parks are now
made through
Reserve America,

toll free, at
1-800-326-3521

LAKE JACKSON MOUNDS STATE ARCHAEOLOGICAL SITE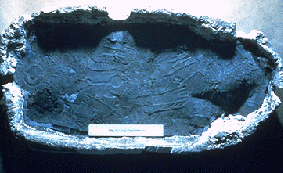 Known as one of the most important archaeological sites discovered in Florida, the Lake Jackson Mounds have yielded some of the most significant artifacts in the state.
---

INDIAN HISTORY
The site was once a large ceremonial center dating back to the Fort Walton period of Florida's history (1000 A.D.-1450 A.D.). Recent studies contributed greatly to increasing our understanding of the Indians of that period.

The entire complex is composed of six earth temple mounds. Part of the village and trading area. Pottery, stone tools and the location and shape of the mounds have been used to identify the age and culture of the site. There is evidence that the Lake Jackson Indians participated in a southeastern socio-religious complex known to archaeologists as the "Southern Cult" or "Southeastern Ceremonial Complex," which flourished around A.D. 1200. The area was probably the political and religious center for Indians of this location during the period A.D. 1200 to A.D. 1500.
---

ANCIENT ARTIFACTS
A society that could develop a site of this type is believed to have had a well-organized political system with tribal leaders more than likely residing in regional centers like the Lake Jackson site. The remains of important tribal members have been found at the site with a rich array of burial objects including elaborate items such as copper breast plates, shell beaded necklaces, bracelets, anklets and cloaks still in place. These exotic artifacts indicate religious and trading ties with other large, pre-historic Indian ceremonial centers in the southeastern United State, such as Etowah in Georgia, Moundville in Alabama, Duck River in Tennessee and Spiro in Oklahoma.
---

FLORIDA HISTORY
Remnants of Florida's territorial period and early statehood (1825-1860), when the land was part of a large plantation owned by Colonial Robert Butler, may still be seen throughout the area. Butler was Florida's first Surveyor General under Andrew Jackson's governorship. The remains of this period may be seen along the nature trail. The wooded area of the park is made up of upland pinelands and ravine forest. Herbaceous plant species such as violets, trillium and rattlesnake fern are common.
---

TOURS
Guided tours and interpretive programs are given upon request with two weeks notice by calling (850) 562-0042.
---
---


Lake Jackson Mounds State Archaeological Site is located off U.S. 27, two miles north of I-10 in Tallahassee. Take Crowder Road to Indian Mounds Road.
For more information, contact
Lake Jackson Mounds State Archaeological Site
3600 Indian Mounds Road
Tallahassee, Florida 32303
(850) 922-6007