Reservations for
Florida State
Parks are now
made through
Reserve America,

toll free, at
1-800-326-3521
Lake Griffin State Park
A Florida State Parks Gem!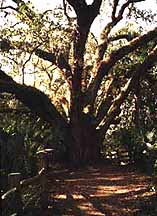 If bass fishing is your favorite recreational activity or even a part-time hobby, you will want to try angling on Lake Griffin. Lake Griffin State Park consists of over 425 acres of woodlands and freshwater swamp. Developed in the late 1960's, the park has 40 campsites with water and electrical hook-ups, a boat ramp, picnic area, picnic shelter and nature trail. While not directly on Lake Griffin, the boat ramp provides access to the lake via power boat or canoe. Swimming is not permitted in waters within the park. The park is home to the state's fifth largest live oak tree. Located near the entrance of the park, this mammoth tree measures over 150 feet tall and 10 feet in circumference. Be sure to visit this natural wonder.
---
WILDLIFE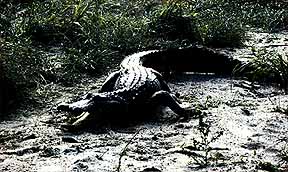 The dominant plant community at Lake Griffin State Park is the freshwater swamp/marsh. Pedestrian access is not provided, but if you have a boat or rent a canoe you can observe a wide variety of wildlife in their natural setting. Along the park waters that lead to Lake Griffin, visitors are most likely to observe osprey, bald eagle, blue heron, anhinga, ibis, American alligator, and river otter.
---

CAMPING
Camp in the park's 40 site campground. Campsites accommodate tents, trailers or motorized campers with some sites accommodating rigs up to 40' long. Each site includes a picnic table and campfire grill. Wood for campfires, when available, is provided at no charge. All sites are available with water and electric and there is a dump station for sewage disposal. Bathrooms have hot showers with hot water. Reservations are taken by phone up to 11 months in advance.

Rates
Our rates are now $15.00/night which includes electricity and pets. There are no discount rates and we now have a 2-week maximum stay.

---

ACTIVITIES
FISHING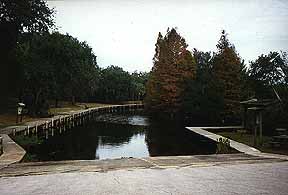 Bass, crappie, and catfish are just some of the fish that are waiting for the chance to snap up your bait on Lake Griffin. The lake is located approximately one mile from the park's boat ramp via a canal and tributary. Some of the lake's best fishing is between the boat ramp and the lake. A fishing license is required for everyone except children 16 years old and under, and Florida residents 65 years of age and older. Because Lake Griffin is a fish management area, the cane pole rule does not apply. This includes all waters in the park. Canoe rentals are available.

PICNICKING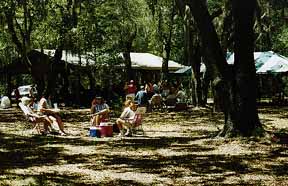 A large picnic area provides a scenic view of the waters near the boat ramp. One twelve table covered picnic shelter is available on a first come, first served basis or it can be rented for $30 per day. The shelter has water, electric, and family sized barbecue grills. A volleyball net and two horseshoe pits are located nearby. Equipment is available upon request. Reservations for the picnic shelter can be made by phone up to 11 months in advance.

NATURE TRAIL
A 1/4 mile long nature trail provides an opportunity to access the park's plant communities and the mammoth live oak tree.

CANOEING
Take a canoe along the Dead River.... Approximately one mile of scenic waterway is available for canoeing between the park and Lake Griffin. Bring your own canoe or rent from the park.

Rental prices at the park ranger station

Deposit required: $10 + Driver license One Hour $3 Half Day (4 hours) $9 Full Day (8 hours) $15
---
VOLUNTEERING
How can you help?
Time: Volunteer to work at the park. Positions are available for a wide variety of interests and expertise. Become a campground host. Camp free in exchange for 20 hours per week of facility maintenance work. Summer positions for campground host now available.
---
PROGRAMS
Campfire Programs
Check at Ranger Station for schedule. Want to know more about Lake Griffin State Park? Interested in snakes? What's prescribed burning? Ecosystem management? These are questions that can be answered at one of our campfire programs. Listen to Park Rangers interpret Florida State Parks. A campfire program will give you the opportunity to get to know the park staff and enjoy the Florida State Park System.
---


Lake Griffin State Park is located 2 miles north of Leesburg and 30 miles south of Ocala. The park is also within an hour of central Florida's major attractions.
Contact:
Lake Griffin State Park
3089 U.S. 441-27
Fruitland Park, FL 34731
Phone: 352/360-6760
Fax: 352/360-6762

View Larger Map
---
---
AREA LINKS
Silver Springs
Homosassa Springs State Wildlife Park
Lake County Chamber of Commerce