Reservations for
Florida State
Parks are now
made through
Reserve America,

toll free, at
1-800-326-3521

HONTOON ISLAND STATE PARK

Hontoon Island State Park is a paradise for fishing, camping, hiking, boating, canoeing, picnicking and nature study.
---
HISTORY
The first inhabitants of the island were Native American Indians. Snails gathered from the shallows of the St. Johns River were a staple food of these people. Through the years, the discarded shells accumulated to form large mounds on the island, one of which may be viewed on the park's nature trail. Three remarkable artifacts have been found in the vicinity of Hontoon Island. A large owl totem, carved from a log and two smaller carvings of wood, one of an otter holding a fish and the other of a bird which is apparently a pelican. Replicas of two of the totems stand in the picnic area as a tribute to the artistry and craftsmanship of the extinct culture.

In later years, the 1,650-acre island was a pioneer homestead, a boat yard, a center for commercial fishing and a cattle ranch before being purchased by the state in 1967.
---
GEOGRAPHY
The scenery of the island varies with the elevation. Pine flatwoods occur on the higher areas, while palm/oak hammocks, cypress swamps and marshes border the St. Johns River and its tributaries. The abundant wildlife found here is as varied as the scenery and the seasons.
---
ACTIVITIES
A 3-mile round trip self guided trail begins at the Ranger Station and follows Huntoon Dead River to the large Indian mound at the southwest corner of the island. Allow 2 1/2 hours for a leisurely walk.

Canoes may be rented at the park for an hourly rate, at a 2 hr minimum (call for details).

The picnic area includes playground equipment, picnic tables, cooking grills, and a restroom which overlooks the St. Johns River.

Fishing is permitted from the banks of the island. Largemouth bass may be caught on artificial bait or live shiners. Most bluegills and shellcrackers are caught with earthworms and crickets, but may also be taken on small artificial topwater bugs. Small live minnows are the best bait for speckled perch. Channel cats are often caught on earthworms sunk to the bottom along the main river channel. A Florida freshwater fishing license is required for persons 16 years of age or older.

If you bring your own bike, we have approximately 5 miles of service roads to ride on.
---
CAMPING AT HONTOON ISLAND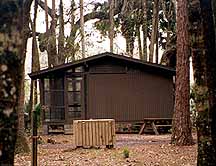 CABIN RENTALS - We have six rustic cabins. The cabins are one room with bunk beds. You must provide your own linen. Each cabin has a ceiling fan, overhead lighting, 1 electrical outlet and a screen porch with table and chairs. Outside each cabin is a picnic table, water faucet and a ground grill suitable for cooking or a small campfire.

FEES - A deposit is required to confirm your reservation and there is a two-night minimum stay on weekends and holidays. Check out time is 11:00 a.m.

4 Person Cabin, $25.00 a night plus tax
6 Person Cabin, $30.00 a night plus tax

TENT SITES - There are 12 campsites. Each site has a picnic table and a ground grill suitable for cooking or a small campfire. Water faucets are located throughout the campground. Check out time is 2:00 p.m.
FEES - $12.00 a night plus tax, covers four people and two tents.

RESERVATIONS - We reserve 100% of our campsites and cabins through Reserve America. These reservations can be made up to eleven (11) months in advance from the day you wish to arrive.

OVERNIGHT DOCKAGE - We have 40 boat slips with shore power and water hookup available for overnight accommodations. These slips are on a first come first served basis. No reservations will be accepted.
FEES
$12.00 a night plus tax includes electric and water
---
ACCESSIBILITY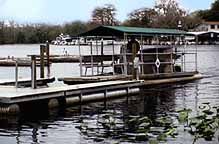 Hontoon Island is located six miles west of Deland, off S.R. 44 and is ONLY ACCESSIBLE BY PRIVATE BOAT OR A PASSENGER FERRY SERVICE which operates from 8:00 a.m. till one hour before sundown. A parking area is provided on the mainland.
---
---


Hontoon Island State Park is located six miles west of Deland, off S.R. 44.
For more information or to make a reservation please contact:
Hontoon Island State Park
2309 River Ridge Road
Deland, Florida 32720
(904) 736-5309.