Reservations for
Florida State
Parks are now
made through
Reserve America,

toll free, at
1-800-326-3521

HONEYMOON ISLAND STATE RECREATION AREA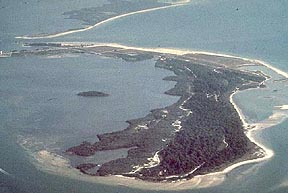 Honeymoon Island is part of chain of barrier islands
on Florida's west coast

Before man, before names, Honeymoon Island was simply a link in the chain of barrier islands that extends from Anclote Key south to Cape Romano. It cushions the Florida coast from tropical storms. Geologically speaking, the island is a relative youngster -- only 7,000 years old.
---

HISTORY
The men and women of the Tocobaga tribe were its first recorded visitors. By 1530, Spanish explorers had scanned the island's coast. For the next two centuries, pirates, traders and fishermen came and went. The Tocobagans, wiped out by foreign diseases, stayed. Their bones reside in the low-lying mounds on the adjacent islands. With the advent of exploration and settlement, the island's metamorphosis quickened. By the 1830's, it was finally on the sap as Sand Island. The Hurricane of '48 drove five feet of water over it, and a faltering hog farm was at least successful enough for a name change to Hog Island by 1880. In 1921, another hurricane split the island, forming Hurricane Pass and Caladesi Island to the south.

Americans got their first glimpse of Honeymoon Island in the early 1940's through newsreels and magazine ads which promised undiscovered pleasures for newlyweds. The palm-thatched bungalows, or cottages, subtropic climate and balmy breezes seemed perfect. It was until Pearl Harbor. America went to war, factories operated around the clock. A New Yorker who had purchased the island in 1939 for $30,000 saw his vacation paradise recommissioned as an R&R site for exhausted workers.

By the 1950's, man was a major competitor in the reshaping of what was now Honeymoon Island. A causeway bridged the gap between Honeymoon and the mainland by 1964, and the island passed through the hands of several development corporations.

Visitors can observe one of the few remaining south Florida virgin slash pine stands along the island's northern loop trail. These large trees serve as important nesting sites for the osprey.

Other important coastal plant communities found on and around the island include mangrove swamps, seagrass beds, salt marshes, tidal flats, and sand dunes. Honeymoon Island has more than 208 species of plants and a variety of shore birds, including several threatened and endangered species. Resource management efforts include the removal of exotic species of plants such as Brazilian pepper. Ecological burning keeps accumulated fuels to a minimum and helps reduce exotic plant life while preserving fire-tolerant native species.
---

ACTIVITIES
Visitors can enjoy sunbathing or swimming in the warm Gulf waters. Surf and pass fishing can yield catches of flounder, snook, trout, redfish, snapper, whiting, sheepshead and tarpon.

Picnic pavilions, bathhouses and a park concession are great ways to enjoy the restful atmosphere on Honeymoon Island. In addition to the beautiful beach areas, the park boasts several nature trails, bird observation areas and the only "pet beach" in the state.
---


Honeymoon Island State Recreation Area is located at the extreme west end of S.R.586, north of Dunedin.
For more information on Honeymoon Island, write to:
Honeymoon Island State Recreation Area
c/o Gulf Islands Geopark
# 1 Causeway Blvd
Dunedin, Florida 34698 or call (727) 469-5942.