Reservations for
Florida State
Parks are now
made through
Reserve America,

toll free, at
1-800-326-3521
HILLSBOROUGH RIVER STATE PARK
Hillsborough River State Park was developed by the Civilian Conservation Corps (CCC) in 1936 and opened to the public in 1938. This 3,950-acre park offers camping, picnicking, canoe rentals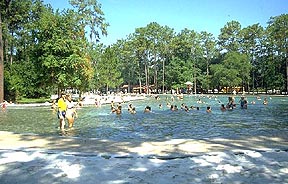 This man-made pool has accesibility for the handicapped.

and seasonal swimming in an ADA accessible man-made swimming pool. Nature trails allow visitors to wander through hammocks of live oaks, sabal palms and hickories which border the scenic Hillsborough River. The trails are wide, howeve, caution should be taken when walking the trails due to the erosion and exposed roots which make the surface rough.
---

RESOURCES
Other activities found in the park include canoeing and freshwater fishing off the banks of the Hillsborough River. The river has one of Florida's only class II rapids. Canoes are not allowed to travel up this part of the river.
---

TOURS & ACTIVITIES
The first weekend in December is the annual Derby Day Festival. This event includes a road race for the physically challenged of all ages and abilities with prizes given in several categories. Fort Foster, a historic site, is located within Hillsborough River State Park. Through living history programs, visitors can step back in time to observe fort personnel carrying out their daily duties in the year 1837. Fort tours are available. Call the park for information on tour availability and times.
---
---


Hillsborough River State Park is located 12 miles north of Tampa or six miles south of Zephyrhills.For
more information on the park, write to:
Hillsborough River State Park
15402 U.S. 301 North
Thonotosassa, FL 33592
or call (813) 987-6771