GUANA TOLOMATO MATANZAS NATIONAL ESTUARINE RESEARCH RESERVE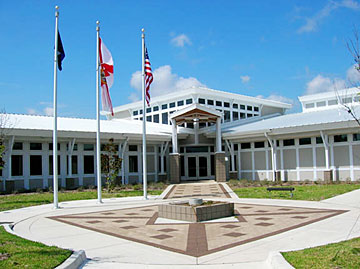 Florida Department of Environmental Protection (DEP) Deputy Secretary for Land and Recreation Bob Ballard, Congressman John L. Mica, and Laurie McGilvray, Chief of the Estuarine Reserves Division of NOAA, opened the new 21,000 square-foot Environmental Education Center at Guana Tolomato Matanzas National Estuarine Research Reserve on Saturday September 24th, 2005. The $6.2 million project includes interpretive exhibits, aquariums, classrooms, teaching and working laboratories, an auditorium and an outdoor amphitheater overlooking the Guana River Aquatic Preserve. Programs are offered to school teachers, students, adults and environmental professionals. Outdoor recreational activities include a picnic pavilion, almost 10 miles of hiking trails, 3 beach access points, fishing area and 2 small boat ramps. Other programs at the center include Coastal Science Seminars, a brown bag lunch program the first Friday of the month, Family Fun Hour the third Wednesday of the month, "Creature Feature", a live animal interaction program every Saturday morning and guided walks a
---
ENVIRONMENTAL EDUCATION CENTER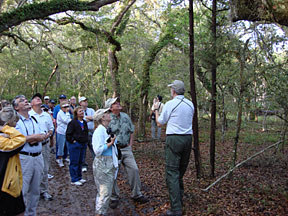 Birding /botany program

The Environmental Education Center (EEC) is open daily 9am - 4pm with the exception of State holidays. Admission to the Environmental Education Center is $2 for adults, $1 for children aged ten to 17 and free for children under ten. (GTM Research Reserve annual pass holders get in free!) In the Center we have a variety of exhibits for you to view and a scavenger hunts for the kids (and adults) to complete. There is also a 15 minute introductory video that plays in the AV room all day. Located at 505 Guana River Road, Ponte Vedra Beach, FL. (Off A1A 8 miles north of Vilano Beach/St. Augustine or 17 miles south of J.T.Butler Blvd. Jacksonville Beach. Call 904-823-4500 for a list of special events or visit www.gtmnerr.org
---
PUBLIC ACCESS
Recreational activities at GTM Research Reserve - Guana River are primarily based around the rich variety of natural resources found here and include hiking, biking, fishing, kayaking or canoeing, bird watching and much more. Hiking and biking are popular along the almost 10 miles of nature trails and old service roads that wind through the hammock, scrub and flatwoods in the interior portion of the GTM Research Reserve. Access to the trails is at the west end of the Guana River Dam. There are no overnight camping facilities or developed picnic areas. There are three beach parking lots on the west side of A1A. Park here and walk across A1A to the beach dune walkovers that will lead you to a beautiful coquina sand beach. There are no lifeguards at the Beach. The South beach parking lot is wheelchair accessible. Pets on a leash are allowed on the hiking trails only.
No pets allowed on the beach.
---
LOCATION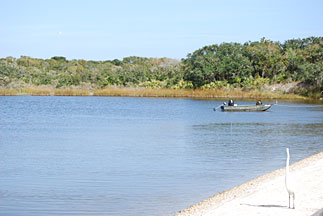 GTM Research Reserve and Guana River Road is located off A1A, 7 miles north of Vilano Beach and 10 miles south of Micklers Road in Ponte Vedra. The beach access points are a few miles north of Guana River Road on the west side of A1A.
---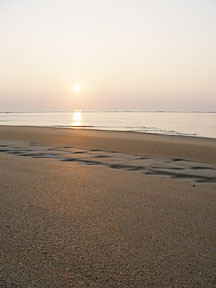 HOURS
The beach access parking areas are open 8am until sunset. The GTM Guana River Trails are open for hiking and biking activities 8am until sunset. The GTM Guana River Dam Use Area is open for fishing 4am –11pm.

---
ENTRANCE FEES
$3.00 per vehicle up to 8 people. $1.00 per Pedestrians, Bicyclists, Extra Passengers in vehicle beyond 8.

GTM Research Reserve Environmental Education Center (EEC)
- $2.00 Adults 17+
- $1.00 kids 10-17
- 10 & under Free.
- Groups of 10 or more must make reservations before visiting the EEC.

Hours Of Operation: 9AM - 4PM 7 Days a Week - Closed on State Holidays

GTM Research Reserve annual passes are available and can be purchased at the EEC 7 days a week 9am-4pm for $53.00 (Price Includes Tax)
---
---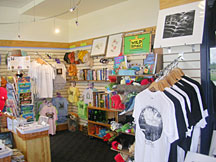 GTM Research Reserve Nature Store
All Nature Store Purchases Support the GTM Reserve's Education, Stewardship and Research Programs.



Guana Tolomato Matanzas National Estuarine Research Reserve is located off A1A, north of St. Augustine.