GRAYTON BEACH STATE RECREATION AREA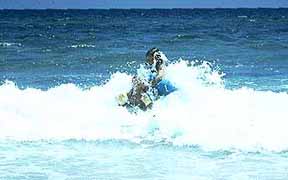 Grayton Beach State Recreation Area's name comes from the neighboring township of Grayton Beach, one of the oldest townships along the Gulf of Mexico in Walton County. This 400- acre park offers rolling sea oat-covered dunes with wide, white sand beaches tapering into the emerald green waters of the Gulf.
Obtained through a land lease from the Florida Board of Education in 1964, Grayton Beach was dedicated and opened in 1968.
Salt spray and wind pruning, two of nature's landscaping tools, are seen everywhere. What sometimes appears to be "bushes" in the dunes are often full-size slash pines and southern magnolia trees with only their tops protruding from the drifting sand. Also found within the park boundaries are pine flatwoods and scrub. Scenic Western Lake is ringed by extensive salt marsh.
---

WILDLIFE
Shorebirds are numerous on the beach, and sea turtles often nest here during the summer months. Foot traffic is prohibited on sand dunes and in nesting areas.
---

ACTIVITIES
Swimming and fishing along the park's one mile of shoreline are the most popular activities for visitors. Saltwater species are caught in the surf, while both fresh and saltwater fish are caught in the lake's brackish water.

A boat ramp is available on Western Lake.

Thirty-seven campsites in pine scrub near Western Lake are equipped with picnic tables, grills, water and electricity. Park rangers provide campfire programs seasonally. A large picnic pavilion overlooking the Gulf waters may be reserved for group activities.

The Grayton Beach Nature Trail begins near the beach parking area and winds among sand dunes, pine flatwoods and scrub communities. It is interpreted by a self-guiding leaflet available at the ranger station.
---
---


Grayton Beach State Recreation Aea is located on S.R. 30-A, south of U.S. 98. Contact:

Grayton Beach State Recreation Area

Box 6600

Santa Rosa Beach, Florida 32459

(850) 231-4210