Reservations for
Florida State
Parks are now
made through
Reserve America,

toll free, at
1-800-326-3521
GASPARILLA ISLAND STATE RECREATION AREA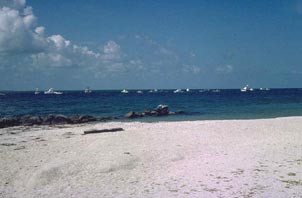 Legend has it that Gasparilla Island was named for the infamous pirate, Jose Gaspar, who reportedly settled on the island in the 1700's with his band of men. According to legend, Gaspar and his men used the island as a hiding place between forays until the United States carried out a campaign to rid the waters of their presence. Whether true or not, the legend adds to the colorful history of the island.
---

RESOURCES
Gasparilla Island is one in a chain of barrier islands extending along the Gulf coast of Florida. It is separated from the mainland by Charlotte Harbor and Pine Island Sound. It is believed the Calusas were the first residents of the island, seeking the fish, turtles and shellfish that inhabited the Charlotte Harbor and Gasparilla Sound estuaries.

Commercial fishing has always been an important part of Gasparilla Island. The fish and shellfish resources of the surrounding waters are among the richest in the state of Florida.

One interesting feature of Gasparilla Island State Recreation Area is the wooden lighthouse on the southern end of the island. The lighthouse was first placed into use by the U.S. Lighthouse Service in 1890 as a guide to mariners seeking the entrance to Port Boca Grande and Charlotte Harbor. In 1966, the Coast Guard closed the lighthouse down. The Federal Government donated the lighthouse to Lee County in 1972 and by 1980 it was placed on the National Register of Historic Places. The Department of Natural Resources (today the Department of Environmental Protection) assumed ownership of the lighthouse in 1985 and spent a year restoring the complex. The light was relit in November 1986. Current plans for the complex include the addition of a visitor center in the lighthouse.
---

ACTIVITIES
Swimming and fishing are very popular activities at Gasparilla Island along with shelling and picnicking. Two picnic areas, with covered tables, are located in the park which offer scenic views of the surrounding water. Shelling is particularly good during the winter months, however, visitors are reminded that the collection of live shells is prohibited. The Gulf of Mexico beaches provide year-round swimming and excellent saltwater fishing in the waters adjacent to the park and in the deep waters of Boca Grande Pass.
---
---


Gasparilla Island is a barrier island on Florida's southwest coast. Access to the island is via the Boca Grande Causeway at C.R. 775 and Placida.
For more information on the park, write to:
Gasparilla Island State Recreation Area
P.O. Box 1150
Boca Grande, FL 33921
or call: (941) 964-0375.