Reservations for
Florida State
Parks are now
made through
Reserve America,

toll free, at
1-800-326-3521
GAMBLES ROGERS MEMORIAL at Flagler Beach

GEOGRAPHY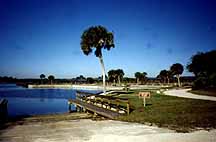 The boat ramp on the Intracoasatal Waterway.

Bordered by the Atlantic Ocean to the east and the Intracoastal waterway to the west this 144 acre park offers coastal camping, picnicking, swimming, fishing and scenic relaxation.
---

CAMPING
The park has 34 campsites that directly overlook the Atlantic Ocean. All sites have electric (30amp), water, picnic tables and ground grills. The campground has a bathhouse with hot showers and modern conveniences and an RV dump station.

Reservations can be made 11 months in advance either by phone or in person, and we reserve 100% of our campsites. We accept VISA, Master Card and Discover Cards for credit card processing. Reservations are strongly recommended, especially on the traditional holidays of Memorial Day, 4th of July and Labor Day.

During the months of February and March, campsites are in very high demand and go quickly.

Daily Fees:
campsite with electric - $20.67 a day (tax included)
campsite without electric - $18.53 a day (tax included)
Extra Persons - $ 2.00 a day (tax included)
Extra Cars - $ 3.00 a day (tax included)

Other important information:
please be advised that there is no shade in the campground, firewood is not available in the park, no pets are permitted on the beach or in the campground, non-residents must have a saltwater fishing license, if anyone in your party has special needs, please let us know, we will do everything possible to assist you.
---

WILDLIFE
At night during the months of May through early September endangered and threatened Loggerhead, Green and the rare Leatherback sea turtles crawl on the beach to nest and lay their eggs as they have done for thousands of years. A wide variety of bird life can be observed during the fall, winter and spring months.
---

RESOURCES
On the west side of A1A lies the Intra coastal waterway part of the park. Here you will find the Ranger Station, boat ramp and boat basin, with excellent saltwater fishing and access to the Intra coastal waterway. The area also has picnic tables, a large picnic pavilion and mile nature trail. It is a great place to watch birds and offers a beautiful sunset.
Gamble Rogers Memorial State Recreation Area is within a short driving distance to many of Florida's historic, cultural and recreational attractions.

St. Augustine - 30 miles
Daytona Beach - 18 miles
Orlando (Disney World, Sea World, MGM studios - 85 miles)

The park has easy access from I-95 via Exit 91.
---
---


The park is located on the east coast of Florida, 3 miles south of Flagler Beach and 18 miles north of Daytona Beach on historic A1A.
For further information, please write or phone:
Gamble Rogers Memorial State Recreation Area
at Flagler Beach
3100 South A1A
Flagler Beach, Florida 32136
phone: (386) 517-2086
View Larger Map