Reservations for
Florida State
Parks are now
made through
Reserve America,

toll free, at
1-800-326-3521
Judah P. Benjamin Confederate Memorial at (Gamble Plantation) State Historic Site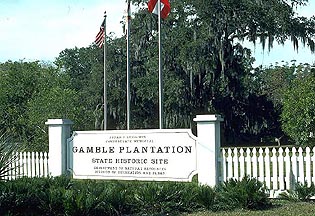 The Judah P. Benjamin Confederate Memorial at Gamble Plantation Historic State Park serves as a memorial to a way of life and an economic system that existed before the War between the States. Gamble Mansion is the only surviving antebellum plantation house in south Florida.
---

HISTORY
The mansion was the home of Major Robert Gamble and the headquarters of an extensive sugar plantation of over 3,500 acres. In May of 1865, after the fall of the Confederacy, Confederate Secretary of State Judah P. Benjamin took refuge in the house until his safe passage to England could be secured.

In 1925, the mansion and 16 acres were saved by the United Daughters of the Confederacy and donated to the state. Today, it is furnished in the style of a successful mid-19th century plantation. A guided tour through the mansion depicts a time and way of life that were very much a part of Florida's unique history.
---
TOURS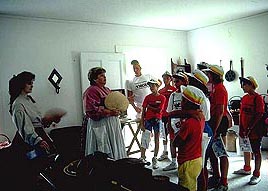 Tours of Gamble Planation's historic mansion are
given daily, Thursday through Monday.

The grounds of this beautiful site contain the mansion, where tours are given through the house, a visitor center and a picnic area where the visitor can relax and enjoy the beautifully landscaped grounds.

This historic site grounds are open from 8 am to sunset. There is no fee to enter the grounds or the visitor center. The mansion is open Thursday through Monday with tours being given at 9:30 and 10:30 a.m., and at 1, 2, 3 & 4 p.m. Tickets for a guided tour of the mansion can be purchased in the visitor center. Price for the tour is $5.00 per adult, CHILDERN 6 through 12 $3.00; Childern under 6 are admitted free.

An Open House is held each Thanksgiving season and again in March, hosted jointly by the Florida Park Service and the United Daughters of the Confederacy. Visitors are treated to entertainment on the grounds, free tours through the mansion and ladies and gentlemen in period costumes. Many crafters display wares reminiscent of the antebellum period.
---
---


Gamble Plantation Historic State Park is located in Ellenton on U.S. 301 E. From I-75 take exit 43 then go west on 301.

For more information on this site, write to:
Judah P. Benjamin Confederate Memorial at (Gamble Plantation) State Historic Site
3708 Patten Avenue
Ellenton, FL 34222
or call (941) 723-4536.