Reservations for
Florida State
Parks are now
made through
Reserve America,

toll free, at
1-800-326-3521
FOREST CAPITAL STATE MUSEUM
The importance of forestry in Florida dates back to the early 1800s, and Forest Capital State Museum celebrates the timber that built Florida. The heart of the museum is dedicated to long-leaf pines, which grow on the museum grounds, and the 5,000 products manufactured from them.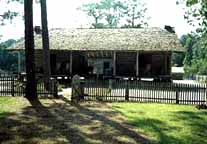 The geodesic dome forming the center of the museum houses an unusual map that features the unique woods of Florida: lignumvitae, the hardest wood; leadwood or black ironwood, the heaviest wood; and buttonwood, the wood that burns the hottest and produces very little smoke.
Exhibit cases are made of different native woods and exhibits interpret such topics as turpentine production. Each October, Forest Capital State Museum is the focal point for the Florida Forest Festival, which attracts thousands of visitors to celebrate the state's timber industry. Adjacent to the museum is the Cracker Homestead Interpretive Site. The homestead is typical of those that once dotted the pinewoods of north Florida at the turn of the century.
MUSEUM HOURS:

open:Thursday - Monday
9am - 12pm, 1pm - 5pm

closed: Tuesday & Wednesday
also closed: Christmas, Thanksgiving, and New Year's Day

Picnic Pavilions Available.
---
---

Forest Capital State Museum is located south of Perry, on U.S. 19.
Contact:
Forest Capital State Museum
204 Forest Park Drive
Perry, FL 32348
(850) 584-3227