FAVER-DYKES STATE PARK

GEOGRAPHY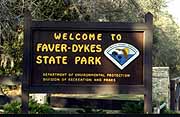 Quiet, peaceful, relaxing and unhurried are the words used to describe Faver-Dykes State Park near St. Augustine. This tranquil park contains 1,450 acres along Pellicer Creek, an aquatic preserve and State canoe trail. The creek, pine flatwoods and mesic hammock are home to many deer, turkeys, hawks, bobcats and river otters.
---

FISHING, BOATING, AND CANOEING
Pellicer Creek borders the southern boundary of the park and is popular for fishing. Both saltwater and freshwater species can be caught in Pellicer Creek. Red drum, black drum, sheepshead, spotted seatrout, common snook can all be caught from the parks fishing dock. Freshwater species such as large mouth bass and bream can be caught closer to the creek headwaters.

A saltwater fishing license is required for non-residents and for those fishing from a boat and a freshwater fishing license is required when fishing for freshwater species. Size and bag limits are strictly enforced. All of the current regulations are available at the park.

A boat ramp is located in the park allowing small boats and canoes access to the Pellicer Creek. Pellicer Creek is a designated Florida state canoe trail. The creek and tributaries offer a beautiful place to observe the varied bird and marine life of the area. Canoes are available for rent by advanced reservation.
---

FLORA AND FAUNA
Faver-Dykes State Park has a variety of trees, shrubs, and wildflowers. The park is noted for its pristine condition. While traveling down the unpaved park drives under a canopy of live oak trees, covered resurrection fern and green-fly orchid, one can imagine that they are experiencing Florida as it was in the early 1500's. Some unusual plants grow under the hammock canopy including Indian pipe, spring coralroot, and Florida coontie. Faver-Dykes State Park contains a variety of wildlife habitats and protects several rare and endangered species. The American alligator is abundant in the creek. River otter are also occasionally seen swimming or playing along the banks of the river. The park is well know for its abundance of white tail deer, wild turkey and gray fox.

There are excellent bird watching opportunities at Faver-Dykes State Park. Well over one hundred (100) species of birds have been observed in the park and surrounding waters. The hammock forest is active during the spring (April-May) and fall (Sept.-Oct.) migration when many species of songbirds, including the colorful wood warblers, move along the Atlantic Flyway. The bald eagle, peregrine falcon, and northern harrier are seasonal inhabitants of the Pellicer Creek Basin (fall and winter months are best for birds-of-prey) and a variety of wading birds, including egrets, herons, wood stork and white ibis, feed in tidal creeks and marshes.
---

ACTIVITIES
Faver-Dykes has several trail options to offer its visitors. A one-half (1/2 mile) trail winds its way through the oak hammocks that were once inhabited by Timucuan Indians and early Florida Settlers. A second (1/2 mile) trail winds itself through the oak hammock and pine flatwoods eventually skirting along the brackish water tributaries of Pellicer Creek.

Several miles of park boundary roads and back woods roads are also available for hiking. Please make prior arrangements with park staff to hike these backwoods areas.

Biting insects can be annoying during the warmer months. Hikers should bring along insect repellent.
---

PICNICKING
Faver-Dykes State Park provides picnic facilities located along beautiful Pellicer Creek. There are two covered pavilions with other tables and grills located throughout the picnic area . The picnic areas close proximity to the creek affords a short walk to the parks fishing dock. The picnic area is located under a canopy of large old growth long leaf pine trees, which create a soft ground cover of pine needles.

One of the pavilions is available on a reservation basis by calling the park. The pavilion rents for $30.00 per day plus tax.

Restroom facilities and a children's play area is also available in the picnic area.
---
CAMPING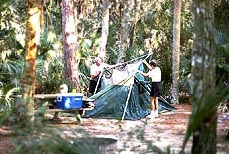 The park has thirty (30) campsites. Each site has a picnic table, grill, water and electric hook-ups. None of the sites have sewer hook-ups but a dump station is located within the park. The sites vary in size. The campground is located within a shady canopy of large oaks and hickory trees. Full restroom facilities are available including hot showers.

Base camping fees are $9.00 per night without electric and $11.00 per night with electric. Extra person fees for groups and extra vehicle fees also apply. Monthly and weekly rates are available.

Reservations are not accepted for this campground at the present time. All campsites are available on a first-come first-serve basis. The park is rarely full and sites are available most anytime. Please call ahead for availability on busy holiday weekends.

YOUTH CAMPING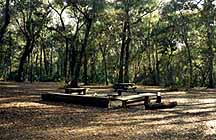 Youth camping area.

Faver-Dykes State Park has a separate camping area for organized youth groups. The area will accommodate up to one hundred (100) people. The camping area has picnic tables, and a large fire circle. There is a pit toilet and hand pump for water.

The youth camping area is located within a picturesque live oak hammock. The youth camping area is adjacent to Rooton Branch, a small branch that runs through the park on its way to Pellicer Creek.

All youth groups must be accompanied by adult chaperones.

Reservations are accepted on a first-come first-served basis.

Camping fees are $3.00 for adults and $2.00 for youth per night.
---
---


Faver-Dykes State Park is located 15 miles south of St. Augustine near the intersection of I-95 and U.S. 1 on Faver-Dykes road.
For more information on Faver-Dykes State Park, visit the other links or contact the park.
Contact:
Faver-Dykes State Park
1000 Faver Dykes Road
St. Augustine, FL 32086
(904) 794-0997