Reservations for
Florida State
Parks are now
made through
Reserve America,

toll free, at
1-800-326-3521
FALLING WATERS STATE RECREATION AREA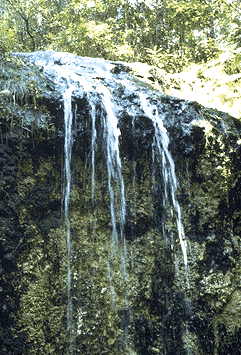 Falling Waters State Recreation Area derives its name from one of Florida's most notable geological features: a 67-foot waterfall.
Falling Waters Sink is a 100-foot deep, 20-foot wide cylindrical pit into which flows a small stream which drops 67 feet to the bottom of the sink. The water's final destination is not yet known.
Falling Waters offers camping, swimming, picnicking and nature trails, which guide visitors through the unique plant and geological formations of the park.
---

Falling Waters State Recreation Area is located three miles south of Chipley, off S.R. 77A.
Contact:
Falling Waters State Recreation Area
1130 State Park Road
Chipley, FL 32428
(850) 638-6130