Reservations for
Florida State
Parks are now
made through
Reserve America,

toll free, at
1-800-326-3521
BULOW PLANTATION RUINS STATE HISTORIC SITE

HISTORY
In 1821, Major Charles Wilhelm Bulow acquired 4,675 acres of wilderness bordering a tidal creek that would later bear his name. Using slave labor, he cleared 2,200 acres and planted sugar cane, cotton, rice and indigo. Major Bulow died in 1823, leaving the newly established plantation to his seventeen year old son, John Joachim Bulow.
After completing his education in Paris, John Bulow returned to the Territory of Florida to manage the plantation. Young Bulow proved to be very capable. John James Audubon, the famous naturalist, was a guest at the plantation during Christmas week 1831. In a letter to a patron, Audubon wrote:
"Mr. J.J. Bulow, a rich planter, at whose home myself and party have been for a whole week under the most hospitable and welcome treatment is now erecting some extensive buildings for a sugar house." Bulowville, Florida
December 31, 1831
Bulow's sugar mill, constructed of local "coquina" rock, was the largest mill in East Florida. At the boat slips, flatboats were loaded with barrels of raw sugar and molasses and floated down Bulow Creek to be shipped north. This frontier industry came to an abrupt end at the outbreak of the Second Seminole War. In January 1836, a band of raiding Seminole Indians, resisting removal to the West, looted and burned the plantation. It would never recover. Bulow returned to Paris where he died the same year.
Today, the coquina walls and chimneys of the sugar mill remain standing as a monument to the rise and fall of the sugar plantations of East Florida.
---
VISITING BULOW PLANTATION RUINS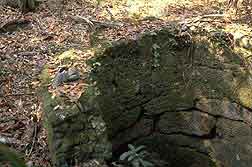 Bulow Plantation Ruins can be reached from Interstate I-95 by taking Exit 90 east to County Road 2001 - the Old Kings Road, a historic roadway connecting the city of St. Augustine to the plantations along Bulow Creek and the Tomoka River.

A park sign on Old Kings Road directs visitors to Plantation Road, the original entrance to Bulow Plantation. The park is open from 9 am to 5 pm. The entrance fee is $2.00 per vehicle.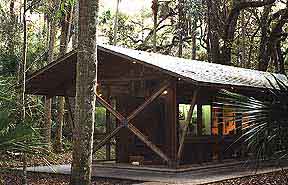 The Sugar Mill Ruins is listed on the National Register of Historic Sites. Visitors can either drive the loop road or walk the nature trail to the sugar mill. The nature trail passes through a stand of "catfaced" pines that were worked for turpentine prior to World War II. The Interpretive Center has original artifacts and exhibits on Bulow Plantation.
---
CANOEING ON BULOW CREEK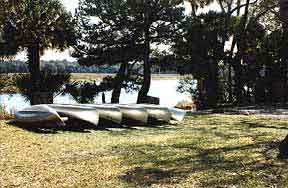 Bulow Creek is recognized as a State Canoe Trail. Each bend of the channel reveals new scenery and opportunity for wildlife sightings. Bald eagles, swallow-tailed kites, and Florida manatees are occasionally seen. Canoes can be rented by the day or hour from the park office which can provide a map. There is a boat ramp available to launch small powerboats.
---
PICNICKING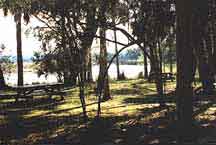 A small picnic area complete with grills is located along the scenic banks of Bulow Creek. There is a screened pavilion available for reservations for larger groups. This pavilion has become quite popular for family reunions and birthday parties.
---
HIKING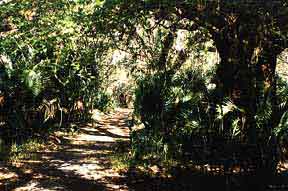 The Bulow Woods Trail is a 6.8 mile hiking trail that runs from the Fairchild Oak in Bulow Creek State Park to Bulow Plantation Ruins State Historic Site. The northern section near Bulow Ruins is recommended for half-day hikes. Starting from the parking area on Plantation Road, the trail crosses open woods before entering Bulow Hammock where the shaded path winds around massive trunks under the cathedral-like canopy of Live Oaks. White-tailed deer, barred owls, and raccoons are commonly seen, and, occasionally, a diamondback rattlesnake. The hiking trail is open for day use from 8:30 am to sunset. A primitive campsite is available to backpackers. An overnight permit is required for camping. The permit, trail maps and other information may be obtained at the park office of Tomoka State Park, 4.5 miles south of Bulow Creek State Park on Old Dixie Highway.
---
---


Bulow Creek State Park is located off Old Dixie Highway in Ormond Beach.
For more information contact:
Bulow Plantation Ruins State Historic Site
P.O. Box 655
Bunnel, Florida 32010
(386) 517-2084