Reservations for
Florida State
Parks are now
made through
Reserve America,

toll free, at
1-800-326-3521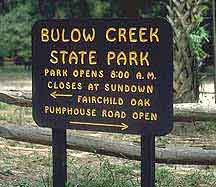 BULOW CREEK STATE PARK
Bulow Creek State Park preserves one of the largest remaining stands of Southern Live Oak forest along the east coast of Florida. The park was acquired in 1981 and contains 3230 acres of upland forest, hardwood swamp, saltmarsh and tidal creeks. The approach to Bulow Creek State Park from Ormond Beach is very scenic. Going north from the Tomoka River , Old Dixie Highway crosses marsh creeks and pine woods to the park entrance.
---
THE FAIRCHILD OAK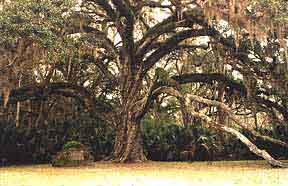 The Fairchild Oak is one of the largest Live Oak trees in the south. The tree has stood for centuries, silent witness to the clearing of the wilderness for plantations, and, in 1836, the destruction of the settlements on Bulow Creek by raiding Seminole Indians. The park contains numerous plantation ruins, most hidden in the undergrowth of the forest. All ruins are protected as state archaeological sites.
---
TRAILS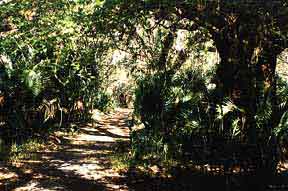 There are several trails for exploring the interior of the park. Two trails start from the parking area at Fairchild Oak. The Wahlin Trail is a short loop around a groundwater spring that seeps from a "coquina" rock bluff. The Bulow Woods Trail is a 6.8 mile hiking trail that runs from the Fairchild Oak to Bulow Plantation Ruins State Historic Site. The northern section near Bulow Ruins is recommended for half-day hikes. Starting from the parking area on Plantation Road, the trail crosses open woods before entering Bulow Hammock where the shaded path winds around massive trunks under the cathedral-like canopy of Live Oaks. White-tailed deer, barred owls and raccoons are commonly seen and, occasionally, a diamondback rattlesnake. The hiking trail is open for day use from 8:30 am to sunset. A primitive campsite is available to backpackers. An overnight permit is required. The permit, trail maps and other information may be obtained at the park office of Tomoka State Park, 4.5 miles south of Bulow Creek State Park on Old Dixie Highway.
---
SCENIC BULOW CREEK AND TIDAL MARSHES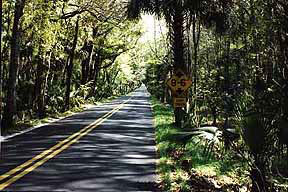 A scenic roadway loop connects the Fairchild Oak visitor area to the Intracoastal Waterway (ICW) and A-1-A, the ocean highway. The road to the beach turns east from Old Dixie Highway onto Walter Boardman Lane, a canopy road through the oak forest to the open marshes of Bulow Creek. There is a parking area by the bridge at Bulow Creek, a popular fishing spot. From here, visitors can walk to the Boardman Pond Observation Platform, a scenic overlook to a tidal pond which attracts wading birds and birdwatchers. The platform can be reached from the hiking trail on the north side of Walter Boardman Lane. Highbridge Road meanders along the tidal floodplain of Bulow Creek, past an abandoned citrus operation, Mound Grove, to the Intracoastal Waterway and the Atlantic Ocean at North Peninsula State Recreation Area. limited groceries. Canoe rentals are available.
---
---

Bulow Creek State Park is located off Old Dixie Highway in Ormond Beach. For more information contact:
Bulow Creek State Park
c/o Tomoka State Park
2099 North Beach Street
Ormond Beach, Florida 32174
(386) 676-4050

View Larger Map