BIG LAGOON STATE PARK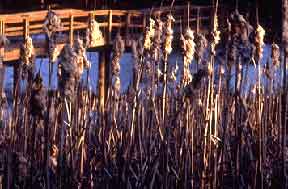 Big Lagoon State Park derives its name from a bordering body of water called Big Lagoon. This coastal park which consists of 698 upland acres, was opened in 1978 and beckons visitors with all the recreational opportunities expected at a Florida state park.
---

NATURAL & CULTURAL RESOURCES
A variety of plant communities occur in the area. Look for sandpine scrub on the sandy relic dunes. Vegetation - dwarfed, twisted and gnarled - provides evidence of the harsh conditions on the dunes which
protect the mainland from storm winds. Slash pines growing in " swales" (elongated troughs parallel to the dune ridges) often grow in wet or even water-logged soil and become impenetrable thickets. The sandy beaches and salt marshes bordering Big Lagoon add variety to the scenery.

Valued as wetlands, the salt marshes attract and provide important habitat for numerous birds and animals. Gray-foxes, raccoons, skunks and opossums are often observed in the park. Great blue herons and other waterfowl can be seen near Big Lagoon while upland portions of the park provide refuge for cardinals, towhees, brown thrashers and nuthatches.
---

More than 75 campsites are located on a pine ridge in the center of the 698- acre park. Modern facilities and a dump station are on the premises.

Five picnic areas with shelters are found along the shore of Big Lagoon and the Intracoastal Waterway. The Governor's Pavilion, which accommodates larger groups, can be reserved for a nominal fee.

A 500-seat amphitheater is a wonderful alternative for group meetings. A separate meeting room and equipped kitchen are available. Reservations are a must; and a nominal fee is charged for use of the facilities.

A variety of water sports attract visitors to the park. Swimming and beach activities are enjoyed on the shore of Big Lagoon. When swimming, stay alert; keep your safety and that of others in mind by staying clear of boat traffic.

A boat ramp with dock provides easy access to the lagoon and the Intracoastal Waterway.

Fishing brings in redfish, bluefish, flounder and sea trout seasonally. Crabbing and castnetting for mullet in the lagoon are also popular.

The beaches, shallow bays, boardwalks, nature trails and open woodlands offer ample opportunity for nature study.

An observation tower at the East Beach area provides a panoramic view of Big Lagoon, the park and Gulf Islands National Seashore across the Intracoastal Waterway.

Numerous interpretive exhibits are located throughout the park. Guided walks, campfire programs and recreational skills programs are offered seasonally and upon special request for groups.





Big Lagoon State Park is located on C.R, 292A, approximately 10 miles southwest of Pensacola.

View Larger Map
---

For information, contact:
Big Lagoon State Park
12301 Gulf Beach Highway
Pensacola, Florida 32507
(850) 492-1595