Above, "Solitude," by Dean Quigley, reproduced with permission by Alton Martin
Calusa Coast Outfitters
Fish Tale Marina
7225 Estero Blvd.
Fort Myers Beach, FL. 33931
(941) 418-5941

Alton Martin
P.O. Box 391
Tyrone, GA. 30290

www.artifactsetc.com

The Shell Factory
North Tamiami Trail
(U.S. 41)
North Fort Myers, FL. 33903
(888) 4-SHELLS

The Mound House
(941) 765-6472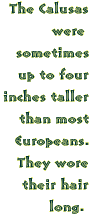 Right, "Untitled," by Dean Quigley, reproduced with permission by Alton Martin depicts the Calusa fishermen navigating a boat carved from a hollowed-out cypress log.
Kimberly Ripley is a freelance writer from Portsmouth, New Hampshire. A wife and mother of five, she bases many of her articles and stories on travel adventures with her family. She is passionate about the Fort Myers Beach area, and plans to one day call it home

passed a sign for The Caloosahatchee River more times than I can count. One day it occurred to me that Caloosahatchee had to be an Indian word. So I researched it's origin and discovered a world whose remains still exist under the very feet of residents and visitors to the Southwestern coast of Florida.

Caloosahatchee means "River of the Calusa". It served as the main highway inland to the Calusa Indians. It's waters were filled with fish and shellfish. It's shorelines were home to an abundance of game. Calusas could canoe the Caloosahatchee River into Lake Okeechobee and access other tribal areas by way of the Kissimmee River.

Above, "Calusa," by Dean Quigley, reproduced with permission by Alton Martin depicts a scene of life in the village.
The Calusa Indians were originally called the "Calos" which means "Fierce People". They were descendants of Paleo-Indians who inhabited Southwest Florida approximately 12,000 years ago. During the Calusa's reign the Florida coastline extended roughly 60 miles further into the Gulf of Mexico. Hardwood forests covered the land and the climate was much colder than it is today. The Calusas inhabited a region abundant with bears, woolly mammoths, sloths, tortoises, and saber-toothed tigers. Hunting these animals and gathering roots and fruit that grew on trees was a mainstay until they discovered the waters contained a wealth of fish. This new food source required significantly less time than hunting and gathering their food, and allowed the Calusas time to establish their own system of government. It was quite a complex structure involving nobility, commoners, and slaves. Following this formation of a centralized government were the construction of a canal system, the beginnings of organized religion, and the creating of many art forms.
Also known as the "Shell People" the later Calusas, from approximately the 1500's to their demise in the early 1800's, used seashells as foundations. They built their cities on them. The remainder of their cities can be seen today as several small islands off the coast of Southwest Florida. One such island is called Mound Key. Mound Key is believed to have been the Calusa's military stronghold as well as their ceremonial center. The 125-acre island sits deep in Estero Bay and is open to visitors. Guests are treated to views of Calusa Indian canals and fish traps. Replicas of their tools are available as well. A Fort Myers Beach company called "Calusa Coast Outfitters" offers tours to Mound Key. Their excursions leave the Fish Tale Marina on Fort Myers Beach, and include interpretations by owner Arden Arrington who is also a local noted author on Calusa Indians. The tours are offered on Thursdays, departing the marina at 1:00. Reservations aren't taken so visitors are advised to arrive at least fifteen minutes prior to departure. The cost is $25 per person, and the tour is not recommended for children under the age of ten.

Mound Key is, in fact, completely artificial. Built with shells by the Calusas from the sea bottom, the first layer consisted of shells driven spiral down into sandy or muddy surfaces. Marl, a material much like clay, was packed around this bottom layer. This became the island's foundation. Soil combined with additional marl raised the land level. Likewise, seawalls were constructed of shells and marl. These were followed by the development of canals and embankments.
The remains of another shell mound are located on Connecticut Street on Fort Myers Beach. The Mound House, built in 1906, sits on the mound and provides a beautiful view that overlooks Estero Bay. Tours are available here as well.

The greatest abundance of Calusa artifacts is found in the remaining mounds. The Calusas utilized shells as tools, weapons, art, and jewelry. Archeologists have uncovered tools like hammers and picks made from shells. Anvils, scrapers, weights for fishing nets, awls, choppers, and knives created from various shells have been unearthed as well. Decorative pieces like pendants and necklaces have beendiscovered. These "Shell People" took advantage of most of this region's various species of seashells.

My research led to my amazement of how creatively the Calusas capitalized on these shells. Today we display them in collections and some clever folks make beautiful jewelry and crafts with them. The area between Fort Myers and Sanibel Island boasts numerous establishments bearing wares derived from shells. There are shell museums, shell craft shops, and even one enormous property known as Shell World. However, in my visits to these businesses I have yet to find anyone who use seashells as a means of survival.

The Calusas also made good use of the local hardwood that grew in their forests. Archeologists have unearthed many wooden carvings and masks. Among the most famous artifacts discovered was a statue of a panther or cat discovered in 1896 by archeologist Frank Hamilton Cushing. It was excavated on Marco Island and a replica may be seen today at the Key Marco Museum on the island. Standing a mere six inches high it was carved from dark brown wood. It appeared to have been varnished. Archeologists today speculate it may have been repeatedly dipped or washed in the fat of slain victims, animal or human. Their belief is that this process enhanced the preservation of the carving. Other animal head carvings were found as well including wolves, pelicans, alligators, and sea turtles.

Frank Cushing also unearthed a wooden carving depicting the head of a doe. He believed the details in the carvings revealed spiritual elements of the Calusas. He also speculated that the Calusas had the opportunity to delve into such intricate work due to the abundance of fish, and thus less time was spent in the search for food.

My next efforts were to identify more intimate characteristics of the Calusas, not as hunters or builders, but simply as people. This proved to be a bit more of a challenge. Their villages were governed by the chief and the priest. Sacrificial worship was commonly practiced. The chief and the priest demanded complete obedience from the villagers. Their society was somewhat closed to other cultures. When the Spanish explorers arrived in the area in the 1500's, they learned the Calusas had almost no interest in missionary activity. They weren't a friendly tribe. Many battles between them ensued. They were responsible for the death of the Spanish explorer Ponce de Leon who traveled with Christopher Columbus on his second trip to America.

The Calusas were sometimes up to four inches taller than most Europeans. They wore their hair long. Tanned deerskin clouts with belts were worn by the men, indicating their positions within the tribe. The women's clothing often consisted of a woven garment of moss and leaves.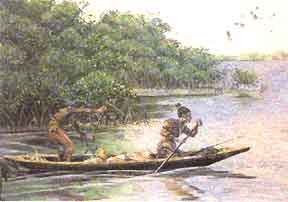 The Calusa's language indicated possible travel to Florida from the outlying islands. They had great sailing abilities. Intricately designed canoes were carved from hollowed-out cypress logs. They were believed to have reached Cuba and maybe even Mexico in these vessels.

Alton Martin, a noted artifacts collector from Tyrone, Georgia, owns several prints of paintings depicting the lives of Calusa Indians done by artist Dean Quigley. Quigley, a native Floridian, used Calusa artifacts and based his painting of a Calusa village layout on the results of actual archeological investigations. Entitled "Calusa", the print is one of a limited edition of just 350 signed and numbered prints. It shows the re-creation of the Calusa settlement on Pine Island. Two other photos of Quigley's paintings "Solitude" and another unnamed show the Calusa's actively engaged in hunting and fishing.

As I stand on the beautiful gulf shores of Fort Myers Beach I can't help but wonder how an entire heritage can simply disappear. However, that was the fate of the Calusa Indians. Europeans attempted fighting them beginning in the 1500's, but the Calusas proved to be mighty warriors. Unfortunately by the 1700's the Europeans had brought with them diseases like smallpox, and a great number of the Calusa Indian population was wiped out. When the Spanish arrived in Florida it was estimated that there were 20,000 Calusa's in South Florida. By the time the English gained control in 1763, their numbers had been reduced to a few hundred. It is reported that the few survivors followed the Spanish to Cuba.

Despite the physical absence of the Calusas, their heritage lives on in the remains of the mound cities they created and in the artifacts archeologists have discovered along Florida's Southwestern coastline. Every few years more significant pieces in the link to these lost Native Americans are unearthed. As interest in local and Native American history peaks and wanes, in Florida's southwestern coastal communities it remains strong.

From Caloosahatchee to Calusa, my knowledge of Southwestern Florida's earliest settlers has vastly increased. On my next visit to Fort Myers Beach, where I hope to one day settle with my own tribe, I will wander along the shores of the Gulf of Mexico, collect a handful of shells, and cast them into the crashing waves. I will do this in honor of the civilization that built their lives with shells, and in honor of the shell mounds that remain today as beautiful natural reminders of the lives of Calusa Indians. If you want to learn more, there is so much information out there. For you web savey people or those of you getting the best online MBA and know your way around the internet, serch the information above and learn more. It doesn't take a masters in communications to understand it either, in fact it doesn't take being a master of anything, all it takes is passion for what you are learning.

---