>
---
---
<-- back to contents
<-- more food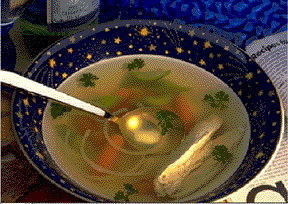 Real Jewish
Chicken Soup
The goodness from the chicken has restorative powers and is an ideal food for anyone who is unwell.

This wonderful soup can be served with vermicelli to make a meal-in-one, or can be served clear as shown, the chicken kept warm and served with low-fat roasted rosemary potatoes, and fresh or frozen baby peas. In this case, prepare the potatoes at the same time as the soup. This combination is a traditional Jewish Sabbath dinner that creates a delightful sense of well-being, perfect for cold winter nights. It is also an excellent "brain food", ideal for young children. It is traditionally made with a boiling fowl or older chicken, but then it takes 3 times as long to cook. So, this recipe is almost as good and only takes an hour or so.



Real Jewish Chicken Soup
INGREDIENTS

5 pounds whole free range chicken, fat removed

1 large onion, diced in 1" pieces

2 stalks celery, diced in 1" pieces

3 medium carrots, cut in 1/4" rounds

1 gallon filtered water, or enough to just cover chicken

5 whole peppercorns

6 ounces vermicelli

1 package giblets

sea salt to taste


---
JOIN THE FLORIDA FOOD DUDE'S ONLINE RECIPE CLUB
Would you like more of like these delicious recipes? Just click here for more information on how to join the Florida Food Dude's Online Recipe Club. Each month, we will e-mail you more delicious recipes for only $1.00 each. Click here for more information
DIRECTIONS:
Wash chicken inside and out, and remove giblets. Place in large pot. Add diced vegetables, peppercorns, giblets and water, and bring to boil. At this point, lower heat, and remove foam and impurities with large shallow spoon, until no foam remains. Cover and cook on gentlest simmer for at least 1 hour. When legs appear to relax and hang loosely, turn off heat and add 2 tablespoons of sea salt, being careful not to over-salt!

Allow to cool slightly, then carefully remove chicken placing large slotted spoon in the cavity, and another large spoon to support it underneath. Place in chicken in covered dish to prevent drying out. Allow soup to cool, in freezer if possible, to allow fat to coagulate at the surface. If you have a soup basting device or fat skimmer, allow soup to cool to room temperature, then skim. Allowing the soup to cool intensifies flavor, no matter how long it takes. On cold days, you could place it outdoors, which would save time, but in this case, keep it covered.

Meanwhile, cook vermicelli according to directions, in unsalted water. Drain. Check chicken soup for saltiness, if you have oversalted, the vermicelli will soak up the excess salt. When soup has been thoroughly skimmed of all visible fat, return to stove and warm on medium heat. Do not allow to boil. Check for saltiness, adding salt in safe increments and with great care.

To serve:
Add chopped parsley and vermicelli to individual bowls, reserving unused vermicelli for leftover soup. Peel breast meat and dark meat from chicken, and add to bowls. Ladle hot soup over chicken and vermicelli and serve immediately. After the meal, remove all useful chicken from carcass, and place in soup and refrigerate. Serve with French bread and sparkling water.
---
NUTRITIONAL INFORMATION (per serving):
Calories (kcal): 580
Total Fat (g): 5.7
Saturated Fat (g): 1.5
Cholesterol (mg): 252
Carbohydrate (g): 91
Sodium (g): 414
% Calories from Fat: 9.2

% DAILY VALUE OF 2000 CALORIE DIET
Total Fat (g): 9%
Saturated Fat (g): 7%
Cholesterol (mg): 84%
Sodium (g): 17%

---
---
<