Been to Universal Studios lately?
If not, now is the time to check out the Islands of Adventures -
a way-cool place for fun, chills, spills and thrills!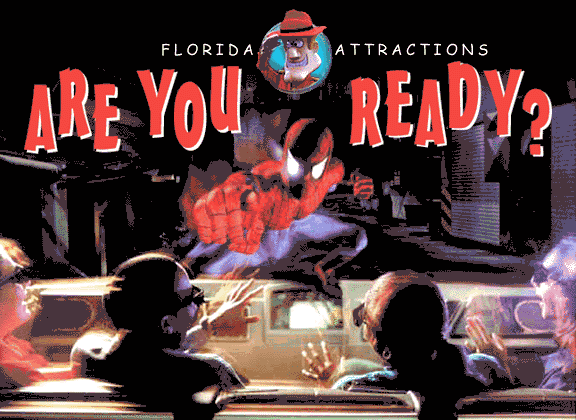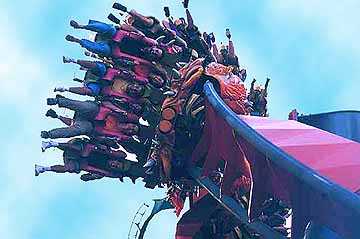 Florida, Italian Style: Portofino Bay Hotel
Ask the Experts: A 9-year old reviews the rides
Five New Continents to Explore: Islands of Adventure
Orlando After Dark: Citywalk

eferred to in Fodor's current Orlando guide as "the best vacation attraction in the world," Universal Studios is going head-to-head with Walt Disney World as Florida's leading and most-visited attraction. Upping the ante in the theme park business with their more entrenched arch-rival, Universal Studios Escape as it is now called, has invested billions in new real estate and new attractions to entice you to not only visit their ever-expanding universe, but to stay there as well.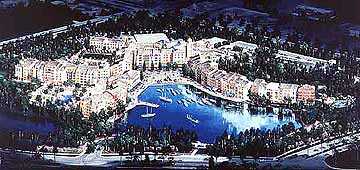 Cleverly teaming up with Loews Hotels, a decidedly upmarket hotel chain, Universal unveils their stunning 650-room Portofino Bay Hotel this September, where you can stay and enjoy the original Universal Studios Florida theme park one day and the new Islands of Adventure the next. Connecting the two parks is Citywalk, a 30-acre nightlife attraction featuring a 2,000 seat Hard Rock Live venue, Jimmy Buffet's Magaritaville and TV chef Emeril's Restaurant as well as other sports-themed bars and restaurants -- even a dance club and a state-of-the-art cineplex. As an alternative to downtown Orlando, you can enjoy Citywalk without entering the theme parks as well.
A fully-functioning movie and television studio living inside a meticulously laid-out movie set/theme park, the original Universal Studios Florida,which opened in 1990, draws on its decades of film production, lore and memorobilia, assembling them all in
---

RIDES
Back To The Future ...The Ride
Earthquake: The Big One
E.T. Adventure
The FUNtastic World of Hanna-Barbera
JAWS
Kongfrontation
Woody Woodpecker's Nuthouse Coaster (summer 1999)



---

SHOWS
Terminator 2: 3-D
The Animal Actors Show
Beetlejuice's Graveyard Revue
Dynamite Nights Stuntacular
Gory, Gruesome & Grotesque Horror Make-Up Show
Hitchcock's 3-D Theatre
The Wild, Wild, Wild West Stunt Show
A Day in the Park with Barney
Hercules & Xena: Wizards of The Screen
Twister... Ride It Out
Universal Studios Islands of Adventure Preview Center
Woody Woodpecker's Kidzone (summer 1999)



---

STREET ENTERTAINMENT
Blues Brothers in Chicago Bound
Universal's Studio Brass



---

INTERACTIVE EXCITEMENT
AT&T Entertainment Center
AT&T At The Movies
Amity Pitch & Skitl Games
The Boneyard
Caricature Artists
Fievel's Playland
Hanna-Barbera Interactive Area
Hitchcock Interactive Area
Jurassic Park T-Rex Attack Photo Spots
Lucy: A Tribute
Sega's Coney Island Arcade
Sega's Space Station Arcade



---




A visit to Universal Studios is an essential destination for anyone who loves the larger-than-life world of movies and entertainment. Great attention has been paid to the set design, making for a magical and thrilling movie-like experience. For a complete listing of all the attractions at Universal Studios Florida, scroll below. To discover the Islands of Adventure, click here .


SET STREETS
Hollywood
Beverly Hills
Garden of Allah
Hollywood Hilis
Rodeo Drive
Studio Forecourt
Sunset Boulevard
Walk of Fame

Assorted
Angkor Wat Industrial Park and Warehouse

Metropolitan
Battery Park
Boardwalk
Brownstone Street
Central Park
Coney Island
Dead End Pier
Gramercy Park
Little Italy
New York City Street
Sting Alley
Theater District
Upper East Side
Waterfront Street
West Side Story Alley

New England
Amity Harbor
Amity Village
Boston Bay
New England Street

San Francisco
Cable Car Turn-A-Bout
The Cannery
The Embarcadero
Fisherman's Wharf
Ghirardelli Square
SFRT Subway Station
Union Square Park

World Expo
Doc Brown's Science Center
Expo Drive
Exposition Park
World's Fair Site



---

TOURS
Nickelodeon Studios Tour
V.l.P. Tours

a state-of-the-art presentation that'll have your head spinning. Movie music wafts from hidden speakers as you move from one thrill ride to the next. Old standbys like Jaws and Earthquake still pack 'em in, while newer presentations like the amazing Terminator 3D and Twister keep things current .

There's so much to see and do here, you might as well stay over in the stunning 750-room Portofino Bay Hotel, opening in September (see article). The 650-room Hard Rock Hotel will follow next year. One of the enticements to stay on-site will be VIP treatment for hotel guests at all the attractions, meaning one hour's admission prior to the general public and other worthwhile perks.

But let's get to the important stuff first- so click here for the hot new rides!

Click here for a map of Universal Studios Escape

---
Universal facts
Guest transportation mediums include water carriages, ferries, multi-car trams, motor coaches, pedestrian-friendly walking and biking thoroughfares and streamlined people-moving system
A five-tiered, 3.4 million square-foot parking facility has a capacity for 9051 vehicles and has the capability to expand to contain 10,800 vehicles. It was completed in December 1996. A second six-tiered parking garage was completed in 1999. The 3.9 million square-foot building has parking for 10,253 vehicles. The combined structure is the largest car park in the world.
Increased motion picture and television production facilities
Ultimately, Universal Studios Escape will employ almost 20,000 persons and will be the largest employer in the City of Orlando. Universal Studios Escape currently employs 11,000 people.
---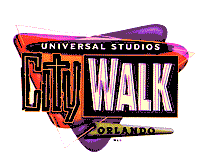 UNIVERSAL STUDIOS CITYWALK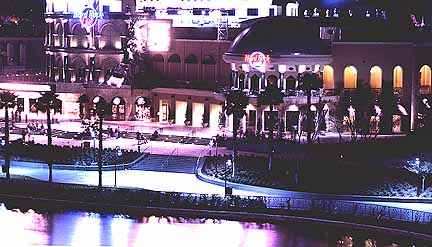 All New Hard Rock Cafe Orlando,
Hard Rock Live,
NBA City restaurant
Jimmy Buffett's Margaritaville
Bob Marley - A Tribute to Freedom
Universal Cineplex
Emeril's Restaurant Orlando
CityJaz
Down Beat Jaz Hall of Fame
Thelonious Monk Institute of Jaz
Live performance venue
Motown Cafe
NASCAR Cafe
Pastamore
Pat O'Brien's
Latin Quarter
the groove