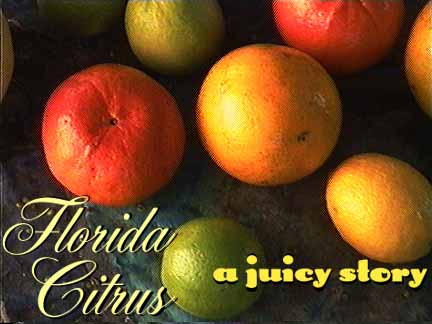 Long before Mickey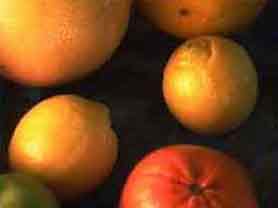 Mouse and friends moved into Central Florida the area was known as a source of pleasure of the juicy kind. Back then, Orlando was a sleepy town ringed with sparkling lakes, pine forests and citrus groves, located where else, but in Orange County.
Many of the groves have given way to high-rise apartments and shopping malls but the sweet scent of orange blossom still wafts through the air in spring. In winter, parts of Orange county live up to its name with groves of golden fruit nestling against dark green leaves to feast the eye -- and the taste buds.
Now we take it for granted that we can enjoy fresh tree-ripened citrus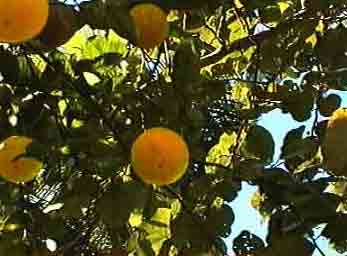 thousands of miles away from Florida, but it wasn't always that easy.
Only people living near the groves could buy fruit when citrus growing got underway in Florida a hundred and fifty years ago. Shipping citrus north involved a tedious journey, first loaded on horse-drawn wagons and then carried by barge up the Ocklawaha River to the St. John's River where it was reloaded onto steamboats. The boats sailed up the Atlantic coast delivering fruit to ports along the way as far as New York where fresh Florida oranges were a luxury. The demand for citrus increased each year but the fruit could not reach northern markets quickly enough.
The railroad offered the answer. Onc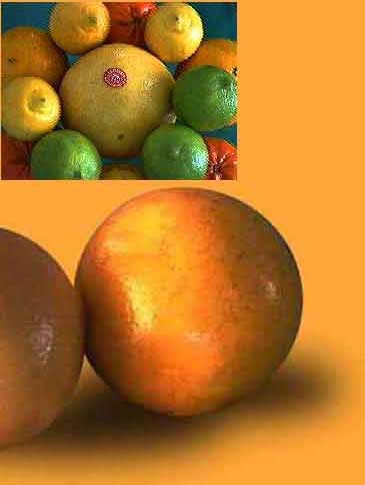 e the tracks were extended to the western side of Orange Lake, freight trains carried crates of citrus north in a matter of days.
Growers were doing well until one of Florida's notorious killer freezes devastated the citrus crop in the 1890s. A series of freezes over the years wiped out many citrus groves forcing commercial growers to give up or move further south.
Although the freezes wiped out many growers, orange juice still ran in their families's veins. When they were no longer able to grow citrus, several pioneer families switched to shipping gift fruit. Families of three or four generations now concentrate on sending a taste of Florida sunshine countrywide in the form of baskets of luscious oranges, grapefruit and tangerines.
Indian River Citrus Museum, at 2140 14th Avenue in Vero Beach, is dedicated to the history of the citrus industry from the late 1800s to the present. After strolling through a small grove to hear about the varieties of fruits there, visitors can stop off at the gift shop to buy unique citrus-themed gift items and fresh citrus (in season).

Citrus County in northwestern Florida, was named for its shady groves of citrus. Today it no longer rates as a center for the citrus industry. Apart from hardier types of citrus such as satsumas and kumquats which can be grown in northern Florida, the heart of citrus growing is centered in Polk County and south. (See map) The Indian River region on the east coast of Florida gives its name to some of the most delectable grapefruit grown anywhere The Gulf Coast around Lakeland is another major citrus area. New groves are being planted in the Glades area around Lake Okeechobee.
Florida citrus varieties range from grapefruit, oranges, tangerines, tangelos, mandarins to lemons, limes and kumquats. Florida only produces a small amount of lemons. It grows most of the limes in the US but total production is not very large
---
---
Varieties of Florida citrus. Citrus season is from November - June

Juice oranges

Navel Oranges


Honeybell Tangelos (Mineola Tangelos)


Orlando Tangelos



Pineapple Orange

Temple Oranges


Valencia Oranges



Fallgo Tangerine


Sunburst Tangerine

Honey Tangerine




Dancy Tangerine

Robinson Tangerine

Ruby Red Grapefruit


Flame Grapefruit

White Grapefruit

Medium to small, thin-skinned

The best eating fruit, medium to extra large. Peels and sections easily. Pebbly thick peel.

Sweet and juicy with few seeds. Medium to large, bright orange color. Bell shaped. Deep to red-orange. Tangerine-grapefruit hybrid.

Pebbly peel tangerine-grapefruit hybrid. Juicy and peels easily. Medium to large in size.

Medium to large, some seeds. Juicy and sweet.

Very juicy. Peels and sections easily. Great eating orange. Oval shape, pebbly peel.

Medium to large in size, very juicy. Golden color, almost seedless.

Few seeds. medium to large size, smooth yellow peel with pinkish blush

Almost seedless, medium to large size, Smooth, thin yellow peel

Smooth, flat and easily peeled, small to medium in size, yellow-orange tinged with green. Some seeds, red flesh, nice fragrance.

Loose peel, deep orange or red flesh. Spicy aroma.

Pebbly peel, medium to large, few seeds. Very sweet.

Medium to large. flattened at ends. Smooth yellow peel. Flesh is pink to reddish, few seeds.

Sweet and juicy with red flesh, usually seedless.

Smooth, thin yellow peel, white or amber flesh, almost seedless. Easily sectioned, very juicy.