---
<-- back to contents
Related Stories: Ecotourism Gators Galore Florida Agricuisine: Citrus Fish Map of Redland and Southwest Miami Attractions Aerial views of Redland
---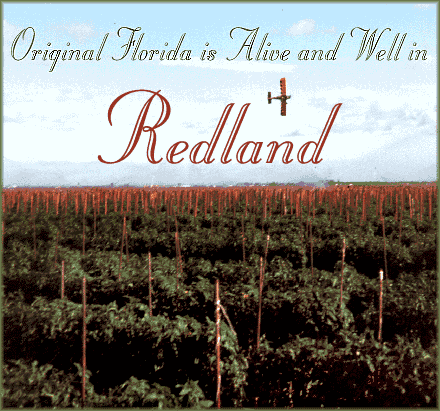 story by Karen Allison
photos by Leslie Harris

A unique and relaxing antidote for a glitzy, stress-inducing vacation is just 30-minutes southwest of Miami - where you can visit another world from another time, in a place called Redland. Original clapboard homes of early settlers, u-pick'em fields, coral rock walls and abundant farms dot the tropical landscape, and remind you to forget what year it is.

Right: Vegetable fields along Redland's Krome Avenue.

Redland originated in anticipation of Henry Flagler's railroad, which, by quirk of fate, never came. This diverse agricultural district, located southwest of Miami, can only be described as a jewel, with an aura of sunswept timelessness which is refreshing and lush with vegetation.

Redland, named for its potholes of red clay, which grows improbably atop a massive layer of oolite rock, similar to coral, is nourished by an aquifer of pure water. It has been a source of amazement to agriculturalists, botanists and naturalists around the world, including Audobon and Fairchild.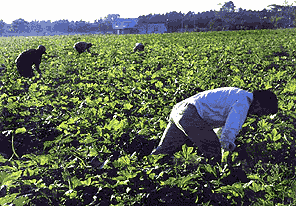 The secrets of the Tequesta and their Paleolithic forebearers remain locked within the ancient oolite, where early man left his tracks 10,000 years ago, along with the wooly mammoth and the ever-persistant mosquito.

Right: December's summer squash being picked.

Pioneer homesteaders in the early 1900s developed a way of working the difficult soil, called scarifying or plow-breaking. This revolutionary method of agriculture caused the land there to develop into the winter greenery basket of America" and the "garden capital of the world.'

Eco-tourism and agri-tourism have given rise to exotic taste sensations, such as a mamey sapote, passion fruit, lychee nut and atamoya, which can be sampled at the Fruit and Spice Park on SW 187 Avenue and 248 Street. Known chefs in the area have begun to adopt this unique fresh produce into their cuisine, starting with Harvest House Restaurant, which served a menu of the freshest

regional ingredients, but unfortunately succumbed to Hurricane Andrew in '92. To sample some

Right: Florida is the only place where tomatoes are grown in the winter.

of the freshest local offerings, this is a delightful time of year to stop in at Burr's Berry Farm on 216th Street, east of 147th Ave., for strawberrys, strawberry ice cream and delicious milkshakes, or even pick your own corn, strawberries, squash and beans, all wonderfully in season, at the U-pick'em stands along Krome Avenue. You can also visit Knaus Berry Farm's produce stand run by the German Baptists dressed in traditional regalia, on 248th Street, for delicious freshly baked goods and bounty of fruits and vegetables.

The modern-day settlers are not unlike the original ones. Most have come with means, though many of the newcomers are Cuban. According to Bob Jensen, Vice President of First National Bank of Homestead, "they are coming form everywhere: Detroit, Milwaulkee, New York. They are coming from all the places where they went to make their money." With state ordinanaces limiting new purchases to a minuum of 5 acres, starting at $100,000, only those of a certain income can afford to build here. Some are calling it the New Hamptons.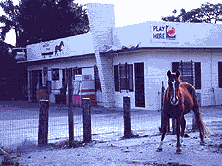 Right: A historical site of the pioneers, Anderson Corner, which includes Harvest House, still awaits renovation after Hurricane Andrew.

And as in most stories, trouble lurks in paradise. Redland is no stranger to unusual phenomena. Old-timer Bill Krome told me how the hurricane of '26 got caught in Will Anderson's orchard. History has repeated itself, after Andrew took hold of historic Anderson's Corner. But the spirit of the natives seems to be as hardy as the almost indestructable indiginous hardwood pine or solid coral rock, of which the still-existing houses of the early settlers were built. Maria Teresa Lopez, a newcomer to the area at the time of Andrew, had just put the finishing touches on her fantastical Cocoplavis, made from bits and pieces of Maude Brickell's original Brickell Avenue house, when Andrew came a-calling. When asked how she fared, she replied in true pioneer spirit, "Oh, the wind came and knocked everything down. I just picked everything back up again."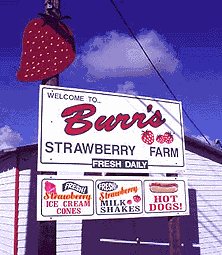 And now another type of storm has Redland under seige: the developers. Newcomers and old-timers alike are passionately concerned with keeping the developers at bay. Connecting like thunderclouds at every town meeting, they dance a war dance that echoes the pioneer spirit that brought them there - the will to preserve the continuum of this magical, lush and bountiful region. "People don't really realize just how special and economically important this agricuiltural area is to the region," said Ann Morts of the Redlands Citizens Association, one of the oldest homeowner's associations in the Miami area. "Preserving the agricultural way of life is tremendously important."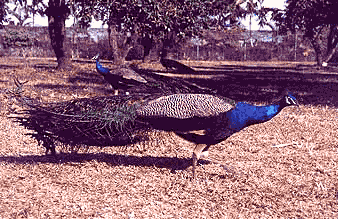 Left: Peacocks live abundantly and freely within the many groves. Redland has also been designated a Wild Bird Sanctaury.

Right: Burr's is the place for anything in strawberry.

To discover to the Redlands, take Dixie Highway south to Kendall Drive and go west to Krome Avenue. Then go south on Krome to get to the heart of Redland. Click here for some aerial photos and a map of Redland.

Some of the fun places to visit while in Redland:
Monkey Jungle, 305/235-1611, 14805 SW 216th Street.
Fruit and Spice Park, 24801 S.W. 187thAve., Homestead, FL 33031; 305/ 247-5727
Coral Castle, 305/248-6344, 28655 S. Federal Hwy.
Cauley Square, antique shops, 305/258-3543, 22400 Old Dixie Hwy.