By J. C. Barrett

The Northwest Florida town of Gulf Breeze straddles a broad peninsula jutting into Pensacola Bay midway between the city of Pensacola and the island community of Pensacola Beach. For centuries the peninsula was little more than a heavily-wooded, mosquito-infested swamp. But over the last decade the swamps have been filled and the land transformed into one of the hottest new housing areas in all Florida.
According to one recent survey, Gulf Breeze is the second-fastest growing city in Florida. Three years ago it had ten thousand residents. Today, the number is closer to fifteen thousand and rising rapidly. The city supports a respectable variety of attractions including three championship golf courses, a fishing pier, a charter boat service, tennis courts galore, the Live Oaks branch of the Gulf Islands National Seashore Park, ample shopping, nearly a dozen fine restaurants, and even a charming zoo.
Nice enough, perhaps. But what really sets Gulf Breeze apart is that this is where you want to be when you want to catch a ride aboard a flying saucer. At least, that's what Ed Walters claims almost happened to him. THE GULF BREEZE SIGHTINGS
It all began on November 11, 1987. Walters, a middle aged housing contractor, says he happened to glance out the window one evening and saw a grayish-blue craft "glowing and gliding along like a cloud" just beyond a pine tree in his front yard. He grabbed a Polaroid camera and stepped outside to investigate. Then, "Bang! Something hit me."
A mysterious blue beam suffused his body and he was lifted two feet off the ground. A "computer like" voice tried to reassure him it meant no harm. Walters swore and struggled. Finally, the beam released him and the odd spacecraft disappeared into the night sky leaving in its wake only a tell-tale scent of ammonia and cinnamon. Somehow, Walters managed to take several Polaroid photographs of the object. A few days later he turned them over to a local newspaper. The publication of those now-famous pictures ignited a worldwide debate that continues to this day. Over the next six months, Ed Walters experienced more than twenty more sightings. On occasion the alien spacecraft would emit a "low humming sound." Sometimes it sent telepathic messages to Ed's brain including the cryptic locution, "In sleep you know."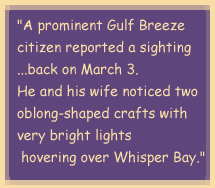 Typical news reports from the local press of the time

As news reports escalated, many other Gulf Breeze witnesses stepped forward with reports of their own. A few claimed to have been abducted at the hands -- or would it be talons? -- of aliens. Dozens more reported seeing mysterious-looking, revolving lights or "saucer-like" things in the sky which they thought were alien space ships.

One fateful night, Walters says a "small creature" holding a "glowing silver rod" appeared outside his bedroom window. The creature was "grayish-black" in color with a "box-like thing" covering most of its body. "Really big eyes" stared expressionlessly out at Walters from beneath a helmet.

Frances Walters, Ed's wife at the time, verifies the story in a book the two co-authored a year later, The Gulf Breeze Sightings: The Most Astounding Multiple Sightings of UFOs in U.S. History (Morrow Publishing 1990). Thirty- eight Walters photos were included. Many show an apparently large, metallic object somewhat resembling a royal crown, or perhaps an upside-down soup pot with a widely flanged rim and large knob on top. Rows of square openings, sometimes lighted, circle the perimeter. Visible on the underside is a bright, bulging white light which Walters concluded must be a "power cell." more...