---
---
Greater Ocala - FORT MCOY
Ocklawaha Canoe Outpost & Resort
15260 NE 152 Pl.
Fort McCoy, FL
32134-8273
866/236-4606 or 352/236-4606


Canoe, kayak, stay in a cabin, bring your RV, or camp under the stars. We offer you, your family or your group everything you'll want to create a vacation of fun, adventure and relaxation. Whether you choose to stay in our cabins, tent on our grounds or paddle our river, you'll find our friendly, professional staff committed to meeting all of your needs.



Grande Vista Orlando
Orlando, FL 32821


1-855-793-8210
Email Us!
Vacation affordably in extravagant suites offered by-owner through GrandeVistaOrlando.com. Grande Vista is conveniently located near Orlando's best attractions such as: Disney World, SeaWorld, Universal Studios, and Universal CityWalk. On-site amenities range from spa treatments and swimming pools, to golf and volleyball courts. 1 to 3 bedroom units available.
Radisson Twin Towers Hotel

5780 Major Blvd.
Orlando, Florida 32819
Tel: 407/351-1000, 800/333-3333, Fax: 407/363-0106
Email Us!
Ideally located at the entrance to Universal Studios Escape®, the Radisson Twin Towers provides free scheduled shuttle service to Universal as well as Sea World and Wet 'n' Wild. Families enjoy the spacious, tropically decorated rooms, the children's playground and junior Olympic size swimming pool. Ask about our "Kids Eat Free" program.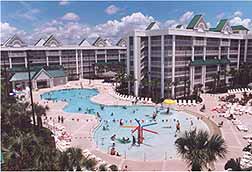 14500 Continental Gateway

Orlando, FL 32821

http://www.hifamilysuites.com

Email Us!

407-387-5437
800 "All Suite Resort" Located less than one mile from the Walt Disney World Resort has seven unique suite layouts and an array of family-friendly amenities that includes a hot breakfast buffet daily for all suite guests and Complimentary scheduled shuttle service to the four Walt Disney World Theme Parks.
.

Arnold Palmers Bay Hill Club
9000 Bay Hill Blvd.
Orlando, Florida 32819
Tel: 407/876-2429, Fax: 407/876-1035 AE MC VS

Holiday Inn Suites Resorts/ Lake Buena VIsta
8100 Lake Ave.
Orlando, Florida 32836
Tel:407/239-1144, 800/EMBASSY, 800/257-8483, Fax:407/239-1718 AE

Hyatt Regency Grand Cypress Resort
One Grand Cypress Blvd.
Orlando, Florida 32836
Tel: 407/239-1234, Fax: 407/856-1672 AE VS MC DC

Lake of the Woods Resort Hotel
7931 Daetwyler Dr.
Orlando, Florida 32851
Tel: 407/834-7631, Fax: 407/834-1687AE VS MC DC

Orlando International Resort Club
5353 Del Verde Way
Orlando, Florida 32819
Tel: 407/351-2461, Fax: 407/351-2641 AE VS MC DC

Orlando's Sunshine Resort
5473 Del Verde Way
Orlando, Florida 32819
Tel: 407/351-1250

Orlando World Center Marriott Resort & Convention Center
8701 World Center Drive
Orlando, FL 32821
Phone: 407/239-4200
Fax: 407/238-8777

Orlando Vacation Resort
1403 S. Hwy 27
Orlando, Florida 34711
Tel: 904/394-6171, Fax: 904/394-1069 AE VS MC DC

Ramada Inn Resort Maingate
2950 Reedy Creek Blvd.
Kissimmee,FL. 34747.
Tel: 407/396-4466, Toll free 800/365-6935
Fax 407/396-6418

Sheraton World Resort
10100 Int'l Dr.
Orlando, Florida 32821
Tel: 407/352-1100, Fax: 407/352-2632 AE VS MC DS

Stouffer Renaissance Orlando Resort
6677 Sea Harbor Dr.
Orlando, Florida 32821
Tel: 407/351-5555, 800/HOTELS-1, Fax: 407/351-9994 AE VS MC DS

Wyndham Palace Resort & Spa in Walt Disney World Resort
1900 Buena Vista Drive
Lake Buena Vista, Florida 32830
Tel: 407/827-2727, Fax: 407/827-6034

Wyndham Orlando Resort
12205 Apopka Vineland Rd.
orlando, Florida 32836
Tel: 407/239-4444, Fax: 407/239-1778


---
---
<