---


Northeast Florida
GOLF

---
With lots of water and lots of nature, some of the most beautiful - and challenging - courses are in Northeast Florida.

Make sure you call ahead for tee-times and availability. We've included details about the number of holes, the USGA rating from the blue tees, and amenities.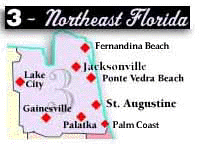 Click the city of interest on the map, or simply click the city listings below.

---
<-- MORE FLORIDA GOLF