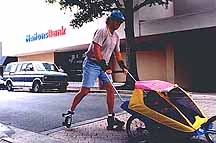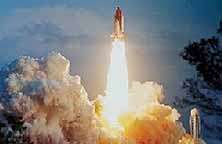 German Garcia photo

The city of Titusville sets its sights high, as befits a municipality of its position. Occupying a scenic spot on the Indian River in northern Brevard County, it anchors a region known collectively as the Space Coast. Across the river is Kennedy Space Center, site of the only U.S. facility to launch humans into space. Nearby is one of the nation's best-kept, most wildlife-filled natural areas, Merritt Island National Wildlife Refuge.

According to the 2000 census, Titusville has a population of 40,670. In 1999 the per capita income for all of Brevard County was $24,282. The biggest employers -- surprise, surprise -- are connected in some way to rockets and shuttles and the highest of high-tech: United Space Alliance, Boeing and NASA itself. About 25 percent of the city's workforce has some space-related job, estimates Chamber of Commerce President Paul Secor.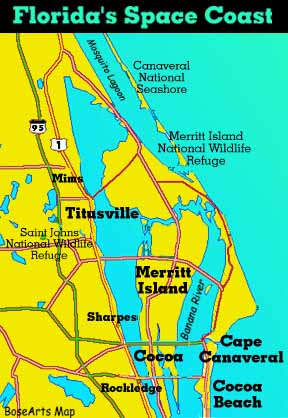 History
The first people to live on what is now the Space Coast were probably the Ais Indians, a tribe that predated and co-existed with the Seminoles. The Spanish came in the 1500s, established a fort and frightened away many of the locals. Then the Spanish left and the British took a turn, finally deeming the area unconquerable and abandoning it to the flora and fauna.
Later settlement was sporadic; families came, but few toughed it out. This was, after all, a frontier.
Vacationers did visit a pretty spot on the Indian River called "Sand Point." A city on that site was founded in 1867 and named for Col. Henry T. Titus, who -- according to the legends -- won the right to name it in a domino match. Twenty years later, when it incorporated, Titusville was a thriving little metropolis: four stores, a post office, two hotels, a newspaper and 400 year-round inhabitants. Shortly thereafter, they had electric lights, an ice plant, a telegraph and service by Henry Flagler's railroad.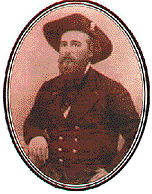 Founding father, Colonal Henry
Titus, circa 1867

Before high-tech came to town, the area was known for saltwater fishing and production of Indian River citrus. During World War II, it was a construction headquarters for hundreds of military ships. After the war, of course, came the space race, which launched Titusville's fortunes in another direction.

The city's history is still visible downtown, where 24 structures on South Washington Avenue and Main Street have been included in a National Register of Historic Places commercial district. Visitors can take a walking tour of the buildings, many of which date back to Titusville's early heyday in the late 1800s.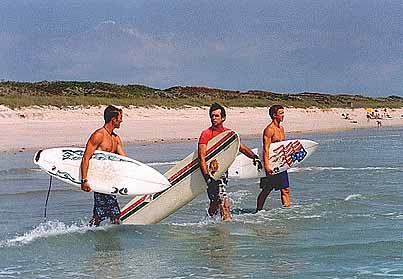 German Garcia photo


Life's a Beach
The area's two closest, most popular beaches couldn't be further apart in personality. North of KSC is Canaveral National Seashore, 25 miles of unspoiled, undeveloped, practically pristine barrier-island coastline. There are parking areas with dune crossovers and restrooms, but that's it. No food vendors, no t-shirt shops, no commercial distractions at all.

The southern end of the beach is one of Florida's best surfing spots. Yes, we have waves in the Sunshine State. Bring (or rent) a board and take a rad ride, dude.

Be warned: One stretch on the southern end, a place called Playalinda, has been -- and continues to be -- popular with nudists, despite a county crackdown. (For more information, see our Nude Beaches story). If this isn't something you care to see, there's plenty of national seashore, with the same sugary sand, just a little farther along.

Back to Nature
North Brevard is known as much for the quality of its wilderness as for the soaring heights of its technological prowess.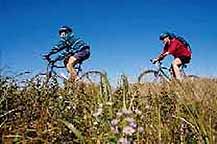 Just north of KSC is the 140,000-acre Merritt Island Natural Wildlife Refuge. The refuge is home to more than 500 species of wildlife and is a major wintering area for migratory birds. There are more animals here than you can shake a zoom lens at: bald eagles, great and lesser blue herons, pelicans, rare reddish egrets, Florida scrub jays, red-tail hawks, gators, manatees, various turtles, numerous snakes and, of course, opossums and some really chubby raccoons. In fact, the refuge contains more endangered and threatened species (16) than any other wildlife preserve in the nation. It also has more than 1,000 plant species within its boundaries. Click here for more about Florida Birds.
Boating, either with a motor or paddles, is a popular pastime for the locals. And if you're the type to wet a length of fishing line, you can expect to find red drum or spotted sea trout on the other end. Other species that might take the bait: snook, tarpon and black drum.
Going on an ecotour is a great way to learn about the natural environment while you enjoy it. Here are a couple of good ones: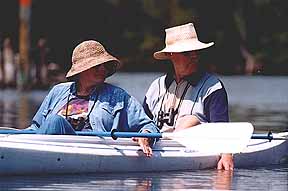 German Garcia photo
-- Osprey Outfitters: Sitting in a kayak lets you be part of the world you're visiting, not just a spectator. Osprey leads tours on area rivers, but the jewel in the crown is the birding excursion on the Indian River Lagoon in the wildlife refuge. No matter which way you point your binocs (and they'll loan you a pair if you don't have your own), you can't help but spot an avian, from common brown pelicans to rare reddish egrets. Manatees are scheduled for part two of the excursion. Guides can't guarantee that the gentle, slow-moving mammals will put in an appearance, but you have a good chance of seeing some. Titusville; 321/267-3535.

-- Ace of Hearts Ranch: Eco-friendly horseback rides on trails or the beach at Canaveral National Seashore. 321/638-0104.

Other nature-loving options:

-- Black Point Wildlife Drive: A 7-mile, one-way road through impounded marshes. Those who prefer hiking can try one of the refuge's trails: Old Hammock (1/2 mile), Palm Hammock (3 miles) or Cruickshank (5 miles).

-- Jungle Adventures: A 20-acre park and wildlife sanctuary with jungle cruise, gator feeding, Native American village and more. In Christmas; 407/568-2885.

-- Enchanted Forest. A small nature sanctuary (393 acres) that offers a look at various habitats and wildlife. South of Titusville; 321/267-7367.

-- Airboat rides: OK, airboat rides are not exactly eco-friendly...but they're really, really fun. A flat-bottomed craft powered by giant fan blades, airboats don't need a lot of water. They just skim the surface, and in this case, it's a good thing. They're able to reach areas that other boats (even canoes or kayaks) can't, which gives you a look at wildlife that folks who stay in mid-stream never get to see. Be warned: they are loud and ear protection is required. You do see a good bit of flora and fauna, but let's admit it: we really do this because we like the wind in our hair. Good places to experience this phenomenon include:
-- Grasshopper Airboat Rides, Cocoa. 321/631-2990

-- Midway Airboat Rides, Christmas. 321/568-6790

Apollo Beach, on the northern end (actually in neighboring Volusia County), contains the remains of a Timacuan Indian settlement. The visitors center on this end offers a variety of activities, from beach walks to wildlife lectures. Also, ask about the turtle-watching excursions; call early, they fill up fast. North visitors center: 321/428-3384; south, 321/267-1110.

Cocoa Beach, by contrast, is six miles of hard-packed sand lined by hotels, motels, condos, restaurants, cafes, ice cream shops, tattoo parlors, drug stores, beachwear emporiums and surf shops, including the granddaddy of them all, Ron Jon. This is an actual tourist attraction: 52,000 square feet of beach heaven where you can buy anything from a single postcard to a state-of-the-art long board any time, 24 hours a day.

Outside, if it's a sunny weekend (heck, even when it's not) Cocoa Beach is wall-to-wall humanity. No South Beach, maybe, but still the Space Coast's party-hearty, see-and-be-seen spot. Be sure to stroll the 800-foot length of the Cocoa Beach pier, which is also a great place to stand (if you can muscle a space) on shuttle launch day.

Cape Canaveral and Cocoa Beach
"Cape Canaveral was in Florida, but not any part of Florida you would write home about... No, Cape Canaveral was not Miami Beach or Palm Beach or even Key West. Cape Canaveral was Cocoa Beach. That was the resort town at the Cape. Cocoa Beach was the resort town for all the Low Rent folk who couldn't afford the beach towns farther south."

So said Tom Wolfe in The Right Stuff, his epic story of the early days of the space program. He was describing the area in the late 1950s and early '60s, when it became both training ground and party town for the Mercury astronauts.

How much of what Wolfe said is still true? Well, time hasn't turned what he considered a sow's ear into a silk purse. It's bigger than it used to be, and more commercial. But it's still no Miami Beach. The crowd -- and since Cocoa Beach is the closest strip of sand to Orlando, there is most definitely a crowd -- may not be "low rent" but it's not Palm Beach-quality either.

Hamburger joints are still the prevalent culinary choice and there's still a Holiday Inn (where the flyboys used to party), but it's been joined by other chain hotels. The beach is still what Wolfe called "hardtack," but it's wide and great for catching rays. Surfing is now the preferred sport.

"Cocoa Beach had begun to take on the raw excitement of a boom town," Wolfe wrote, "and the manic and motley cast of characters that goes with it."

These days, residents are pretty normal. No wacky flyboys, not even the highjinks of I Dream of Jeannie (yes, this is where "Master" and Jeannie lived). The KSC folk who live in the area now tend to be family types.

The tourist infrastructure that was thin in the Mercury days is big business now, especially during shuttle launches. But one thing has remained the same: party down, dude!

Cocoa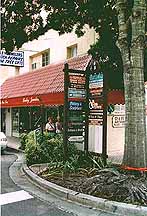 German Garcia photo

Over the rivers (Indian and Banana) and across Merritt Island (a mix of residential and strip-mall development) lies Cocoa.

The place to see is historic Cocoa Village, site of quaint and trendy shoppes, better restaurants, historic buildings, a jazz fest in the spring and a craft fair (June 5-7). Take one of the walking tours, or pick up a map (available at the Brevard Museum of history and Natural Science, among other places) and do it on your own.

Port Canaveral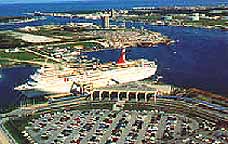 There are two sides to Port Canaveral -- a splashy, flashy, glitzy, fun leisure cruise operation, and a hard-working cargo terminal that handles produce and goods from all over the world.
Three cruise lines, with 5 ships offering 3-, 4- & 7-night cruises; and two gambling ships
which each sail twice daily, Sun Cruz Casino and Sterling Casino Lines, leave from the modern passenger terminals for points exotic. Port Canaveral is the second-largest three- and four-night cruise port in the continental U.S.


Down-to-earth Dining on the Space Coast

Let's be honest: This is not exactly a culinary hot spot. Still, you'll hardly go hungry. For more East Central Florida dining, check out our Dining listings.

Titusville
-- Dixie Crossroads: The lines at this popular, locally owned eatery can be as long as those at Planet Hollywood over in Mouse-town... but the food's better here. The restaurant specializes in fresh seafoood, much of it from the surrounding waters. 321/268-5000.

-- Kelsey's Pizzeria: Nothing fancy, just a good neighborhood Italian joint with reasonable prices. Two locations. 321/268-5555 (Titusville); 321/639-3333 (Port St. John).

-- Harbor Lights Restaurant and Lounge: Prime rib, steaks and pasta all the time; views of manatees and dolphins frequently. 321/267-2244

If a launch happens to coincide with lunch, the places to be are Paul's Smokehouse (321/267-3663) or Fat Boy's Bar-b-q (321/267-3468) on U.S. 1. With a clear dining-room view of KSC, you can gape as you chow down.

Cocoa
-- Cafe Margaux: Dress up and bring your credit card. This is one of the nicest (and priciest) places in town. Both the food and the bill are worth a little splurge. 321/639-8343.

-- Lone Cabbage Fish Camp: A Cracker stronghold, Lone Cabbage is as much a cultural experience as a place to consume necessary calories. We're talking catfish, frog legs and gator, Bubba. 321/632-4199.

Other choices:

-- Black Tulip: Cocoa; 321/631-1133

-- Bernard's Surf: Cocoa Beach; 321/783-2401

-- Crab Heaven: Cape Canaveral; 321/783-5001

-- Moon Hut: Cape Canaveral; 407/868-2638

Its deep-water port is one of the largest general-purpose free trade zones in the nation and the world's only quadra-modal transportation hub -- that means it can interchange freight between sea, land, air and space transportation.

Lodging
The Space Coast is tourist-friendly but not exactly tourist-dependent, so don't expect the same abundance of lodging that you'd find in Orlando. Nevertheless, most of the major hotel/motel chains are represented, from EconoLodge on up, so pick the one you're most comfortable with. If you can't decide:

-- Holiday Inn-Kennedy Space Center (Titusville). You can watch a shuttle launch from your room (if you're willing to pay for it and book well in advance) or from out near the pool. 321/269-2121.

-- Holiday Inn-Cocoa Beach. You can see the shuttle from here, too, though you're not as close. On the other hand, you're also on the beach, so pick your priorities. 321/783-2271.

-- Best Western-Space Shuttle (Titusville). You're a couple miles farther inland, but still close to the action -- and closer to the highway. 321/269-9100.

-- Fawlty Towers (Cocoa Beach). It's not a tower, but it is bright pink, which will get your attention, even though it is right next to Ron Jon. 321/784-3870.

For something a little homier:
-- Dickens Inn (Mims). An honest-to-goodness B&B, with homemade breakfast and everything. 321/269-4595.

Other choices:

-- Crystal Lake RV Park. 321/268-8555

-- Indian River Bed & Breakfast. 321/269-5495

-- Ramada Inn and Suites-Kennedy Space Center. 321/269-5510

-- Numerous small mom-and-pop operations. They may not be flashy, but they're clean and often less expensive.

Click here for more East Central Florida hotels and motels, resorts, and bed & breakfasts.