Above, Blue Angels airplanes hanging from the ceiling in formation as close as they actually fly during air shows.
By John Barrett
Touring Pensacola & Pensacola Beach
In the city of Pensacola itself there are countless historic sites, museums, and sight- seeing jaunts to take. A short walking trail begins in the center of downtown and takes you past sites of early Spanish, British, and French settlements. The Seville Historic District immediately east includes the former home of the British Ambassador to the Florida Territory and a score of early 19th century shotgun-style houses on squat brick pillars.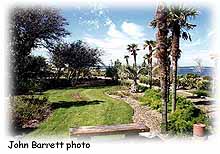 Morgan Memorial Park has a splendid
display of native plants.

The Pensacola Art Museum nearby is a work of art in itself. Formerly the old City Jail, the building was remodeled a decade ago into a superb showcase for contemporary art. Next door is the Pensacola Cultural Center which was recently redesigned to include a dazzling theater for community plays and live radio shows.

The world famous Naval Air Station Museum is worth a drive to the city's west end. Be sure to take one of the guided tours. Even if your interest in the History of Manned Flight is limited to wondering how to open those pesky packs of peanuts the flight attendant hands out, the tour is a fascinating experience that will rekindle your sense of wonder.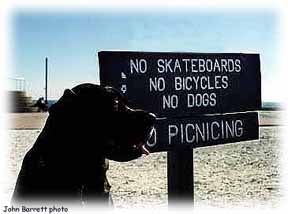 If you're into kitsch, check out the T.T. Wentworth State Museum. Collected under one roof is a hilarious assortment of cultural crud ranging from shrunken heads and the Gentle Giant's left shoe to a moldy piece of birthday cake from Thomas Edison's eighty-second birthday and a mummified house cat. Toddlers up to ten years of age will love the third floor's interactive play area with walk-through replicas of famous Pensacola buildings and businesses.