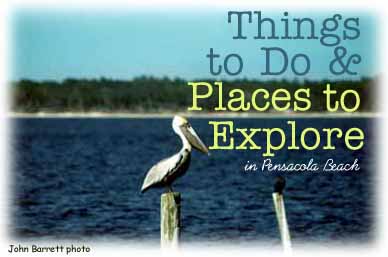 Pensacola Links
Climate
Water Fun
Golf
Parks
Nature


Pensacola Features
History
Tours
Map & Directions
Dining

By John Barrett
Climate
March weather generally is ideal (65-75¡). The water begins turning warm (65¡ or higher) and the customary garb of Island visitors becomes highly informal -- T-shirts, shorts, and sandals. That is, when they're not dressing down in bathing suit and thongs.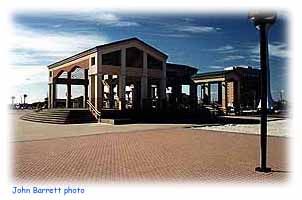 The Pavillion at Casino Beach

Pensacola Beach is not Fort Lauderdale, to be sure, but it's lively enough for even veteran Spring Break enthusiasts. If crowds of fellow celebrants are what you're looking for you'll find plenty sunning themselves at Casino Beach in the town's core area, attending outdoor concerts at the Band Shell on Quietwater Beach across the street, or just hanging out at one of the outdoor bars that overlooks the action. Click here for the local weather & surf cam.

Water Sports and Recreation
On the other hand, if you'd rather sunbathe in solitude, all you have to do is wander around the island and pick your spot. The beaches here are wide open to the public and totally free. On the Gulf side of the island Winter surfers have a field day and shell-hunting is often excellent. As Spring approaches the water grows calmer and recreation turns to snorkeling, boogie boards, sail boating, and deep sea fishing. Beach volleyball courts spring up like mushrooms. Outdoor basketball courts, bicycle lanes and jogging paths abound. Roller-blading is a favorite local sport, too. Click here for more beach info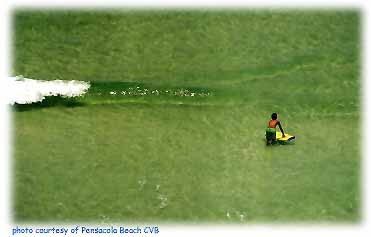 A young swimmer enjoys the surf with a boogie board

On the Sound side vacationers can rent motor boats or sail boats, go jet skiing, or soar over the water while hanging from a parasail. Less hazardous duty is available at Mountasia's miniature golf course and a local go-cart track. Public tennis courts available, day and night, at a village park along Via De Luna. No reservation is necessary. Click here for more attraction information

If you'd like to try your hand at deep sea fishing, charter boats leave the Marina (next to the Elk's Club on Pensacola Beach Boulevard) every day of the week. Rates average $60 to $90 per person for a seven to ten hour voyage, plus a tip for the bait boy. Equipment, bait, and fish cleaning services are included. There are others in Gulf Breeze and Pensacola. Stop by or call to make a reservation at least a day ahead of time. Popular island charter services include Chulamar Charter (934-8037) and Lively Boat Charter (932-0304).

Golf
Just off the island are three championship golf courses including Tiger Point East, Tiger Point West, and Hidden Creek. All have driving ranges, putting greens, and a club house open to the public. Green fees range from $35 to $50 but substantial discounts can be purchased with well-advertised golf packages or a weekly pass. Soon to open: the Gulf Breeze Recreational Park, complete with multiple soccer fields, tennis courts, and baseball diamonds. Click here for our Golf listings.

Gulf Islands National Park
Wherever you're staying on Pensacola Beach the Gulf Islands National Seashore Park is never more than a couple of miles away. In the early 70's thirty miles of pristine, uninhabited beachfront were set aside to preserve one of the most unique and enticing places in all of Florida. Access is free. There are no commercial establishments, however, so it's BYOB. (No glass containers, please.) Sanitation facilities are available at parking nodes spotted every two or three miles along the access highway.

For those who find themselves suffering from Study Hall Withdrawal, the area is rich in history and studded with nature trails.

Fort Pickens stands at the west end of the island. The Park Service charges drivers a small daily fee or for $20 you can purchase an annual pass good for admission to all national parks in the country.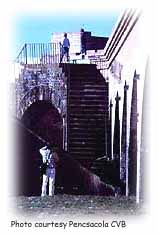 Picturesque Fort Pickens
is a cannon fort built
around 1830.

The old stone cannon fort provides a fascinating tour of America's military past. Built in the 1820's and occupied continuously by Union troops throughout the Civil War, the fort's battlements bear the scars of nearly every international feud from the Mexican-American War a century and a half ago to the Korean conflict. Chief Geronimo was imprisoned here with three of his wives and a hundred warriors in the 1880's -- and promptly became one of Florida's first tourist attractions. He's long gone now, of course, but you can still see the smoke pot smudges from tribal cooking fires. Now and then an arrowhead or other Native American artifact pushes up through the sandy soil as well.Click here for more area parks

Nature Trails
Casual nature trails are well laid out at Fort Pickens and the Live Oaks Center of the Gulf Islands National Park in Gulf Breeze. For more challenging hikes, park in one of the Gulf front nodes on the island and wander north toward the Sound, heading either for Range Point or Big Sabine Point -- both secluded, heavily forested, and festooned with classic 25-feet high sand dunes just as Mother Nature intended.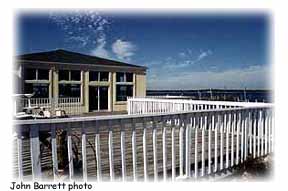 The Boy on a Dolphin restaurant is a great
place to catch a delicious meal and
an ocean breeze

Experienced scuba divers might want to check out nearby shipwrecks. At Emanuel Point, archeologists recently identified what may be one of the oldest Spanish wrecks in the Western Hemisphere. Current thinking is it belonged to Don Tristan's ill-fated fleet although this has yet to be proved. Over 3,000 artifacts have been recovered. Yet less than 25 percent of the site has been explored. Contact the Florida State Historical Society for tour information or to volunteer as a diver or "dig" assistant. Click here for more Nature links.