---
<-- More Absolutely Florida
<-- More Cityscapes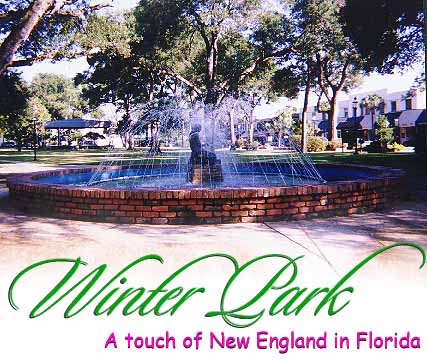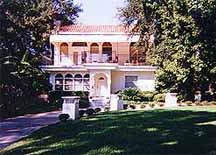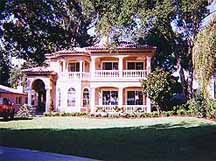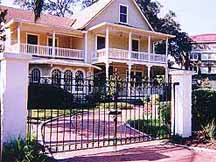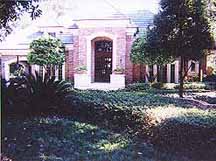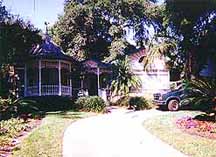 The homes in Winter Park range from million
dollar lakeside mansions to bungalows and condos.

rom its humble beginnings as a log cabin situated between Lakes Virginia and Mizell in 1858, Winter Park has grown from a wilderness outpost in a pine forest to a luxurious haven for snowbirds - a charming section of Greater Orlando in Central Florida. This is thanks to Loring Augustus Chase, whose vision of a planned community with scenic, curving brick roads, charming Mediterranean-style architecture in park-like settings of Spanish-moss draped live oak, all centered around a chain of 17 lakes.

History
The Farmer's Market, now refurbished to accommodate large gatherings, was Winter Park's railroad station, and contains historic memorabilia depicting the city's roots in the Winter Park Historical Association and Museum. The railroad, dedicated in 1880 by U.S. Grant, opened up this new destination to visitors from the busy St. Johns River area to the east, and by 1882 the city of Winter Park was dedicated. A few years later Rollins College, the very first institute of higher learning in the state, was built. By 1890, the population of the town reached a thriving 600.

Winter Park grew steadily despite a devastating freeze in 1895, and thanks to Charles H. Morse of Chicago who stabilized the town by acquiring the Winter Park Company. When the 1924 land boom hit, the population had blossomed to 2,360. It has been thriving ever since and is now one of Florida's most unique year-round destinations which has remained true to the plans of its founders.

Park Avenue
The main street in Winter Park, Park Avenue, is chock-a-bloc with al fresco cafes, upscale boutiques and gift shops, home decor galleries and museums, posh clothing stores, stationery shops, just steps away from the sophisticated, cozy Park Plaza Hotel. The village green, Central Park, offers a manicured and shady respite from a day's shopping.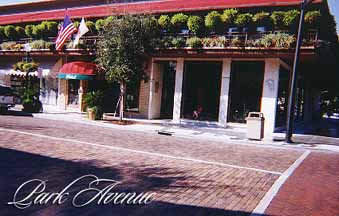 Lodging
Within walking distance to brick-lined Park Avenue, await sophisticated hotels such as the Langford Resort Hotel on New England Ave., and the Best Western Mt. Vernon Inn omn Orange Ave., which both offer European-style charm, impeccable service and luxury. These inviting hotels will pamper vacationers, business travelers and also can accommodate meetings large and small. Click here for our complete listings of lodging in Winter Park.
Meeting & Gatherings
Venues for large gatherings include the historic Farmer's Market just a block from Park Avenue, the plantation-style Winter Park Country Club and the elegant Winter Park Civic Center.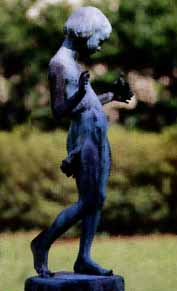 The Art Scene
Three notable museums place Winter Park on Florida's cultural map, each within walking distance. The Charles Hosmer Morse Museum of American Art houses the world's most comprehensive collection of the works of Louis Comfort Tiffany (1848-1933), the legendary stained-glass artisan. An impressive collection of late-nineteenth and early twentieth century paintings, graphics and decorative arts are also on display. The Cornell Fine Arts Museum on the Rollins College campus features an outstanding art collection from Renaissance to contemporary. This is one of the best college collections in the country, and certainly one of Florida's oldest. The Albin Polasek Museum and Sculpture Gardens displays over 200 works of the late Czech-American sculptor, on lovingly manicured grounds overlooking Winter Park's chain of lakes. Park Avenue is also home to five fine galleries of contemporary art. Click here for our Winter Park gallery listings. Winter Park is famous for its internationally recognized Sidewalk Art Festival, considered the second largest in the country. This March will be the 39th festival. Click here for a complete round-up of Winter Park's 1999 events.
The Park Avenue area is the place to be for great shopping and dining. Click here for our listings of fine, unique shops and Winter Park dining destinations sure to please every palate.
For more information about Winter Park, contact the Winter Park Chamber of Commerce, 407/644-8281; fax: 407/644-7826; 150 York Avenue, Winter Park, FL 32790-0280.