If you have a car while visiting Miami, do yourself a favor and take a driving tour of Coral Gables. This beautiful city founded in 1921 by George Merrick is not only one of the most desirable residential communities in South Florida, but it is a center for international commerce as well - boasting more than 140 multinational companies.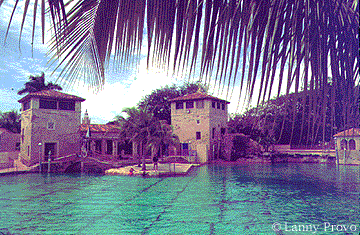 The fresh water of the Venetian Pool, above, is changed daily
Lanny Provo photo

Allow yourself approximately twenty minutes for this tour through beautiful Coral Gables. Take I95 south to the end, which blends into US1. As you head south (as the crow flies you are heading in a southwesterly direction), turn right (west) onto Granada Boulevard. You will pass the University of Miami which is the oldest university in the city. This tropical campus is a mixture of old and new architecture and serves as a friendly welcome to the Gables.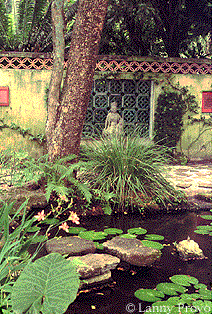 Many homes have beautiful
private gardens
Lanny Provo photo
The first thing you'll notice as you get off the highway and begin to enter Coral Gables is an abundance of greenery. There are more than 50,000 trees in the city's 12.5 square miles. That equals 4000 trees per square mile! The overhead tree canopy allows dappled light to filter through, creating a kaleidoscope of color. This light casts a warm glow throughout Coral Gables and shows off the extraordinary Mediterranean architecture.
The city's zoning laws are some of the toughest in the nation with rules requiring homeowners to choose house paint colors from a board-approved palette. These laws don't allow pickup trucks and commercial vehicles to be parked in residential areas overnight. This strict zoning enforcement has given Coral Gables the feeling of an expansive Mediterranean park with an old world charm and a magnificent opulence. Winding streets and secluded waterways add a unique beauty.
Heading west on Granada past Bird Road and you will notice the homes becoming larger and more beautiful. As you go deeper into the heart of the Gables, the foliage becomes denser with boughs intertwining overhead and pleasure boats burrowed in private canals.
Nearing the end of your journey, look for a sign that says "BILTMORE" and turn left onto the magical sounding street of Anastasia. The Biltmore Hotel is a magnificent historic landmark with an incredible swimming pool and public golf course. If it's Sunday, you can stop and have a free guided tour. Any other time you can look around unescorted.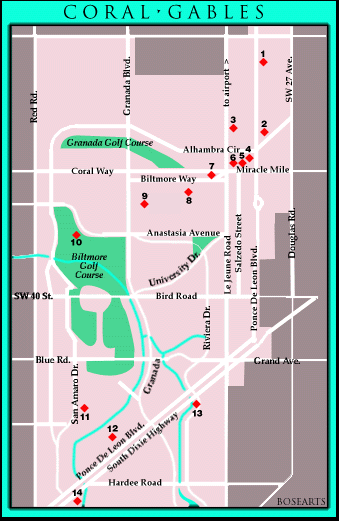 KEY
1. Hotel ChateauBleau 448-2634
2. Hotel Place St. Michel 444-1666
3. Holiday Inn Coral Gables/ Downtown 443-2301
4. Hyatt Regency Coral Gables 441-1234
5. Coral Gables Chamber of Commerce 446-1657
6. The Omni Colonnade Hotel 441-2600
7. Coral Gables City Hall 442-6800
8. The David WIlliams Hotel 445-7281
9. Venetian Pool 460-5356
10. The Biltmore Hotel 445-1926
11. University of Miami Ring Theatre 284-3355
12. Lowe Art Museum 284-3535
13. Rivera Court Motel 665-3528
14. Howard Johnson 665-7501


Cruising down Anastasia, you'll pass St. Teresa's Church of the Little Flower. Turn around here and head back on Anastasia, in the direction you just came from. Turn left (north) on DeSoto Blvd., past the Congregational Church. You will see one of many fountains in the middle of a roundabout and here you will bear to the right. Keep your eyes open for the Venetian Pool on the right side of the road. The Venetian Pool is an exquisite lagoon created out of a limestone quarry. The limestone was used in the construction of early Coral Gables houses. George Merrick's uncle, Denman Fink turned the limestone pit into a glorious pool in 1924. There's a sandy beach, coral rock caves, and little bridges. If you have time for a swim, be prepared for a cool but refreshing dip. The water is changed daily and therefore, never chlorinated. If you're not in the mood for a swim, stop and have lunch at the cafe. You won't find a more beautiful or relaxing setting anywhere in the city. (The pool is closed Mondays for cleaning.)

Continuing on your tour, head back toward the fountain and turn rig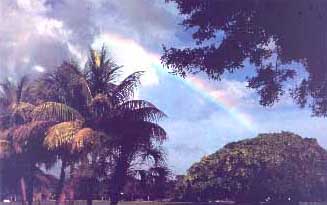 The Biltmore Hotel's golf course


ht on Granada toward one of many stone gate entranceways that date back to the city's origin. At Coral Way make a left turn and then a right on Alhambra, which up ahead, will usher in the business district. But first peel off and explore any banyan-lined streets of tidy, tiny cottages, elegant mediterranean villas or stately original coral rock homes, each individual, and each charming.

In the heart of Coral Gables' business district, you won't find oppressive skyscrapers of willy-nilly design that dominate most unplanned city landscapes. Businesses are given incentives to adhere to the Gables' zoning rules, so you'll see the Mediterranean influence in the office buildings as well as in the private homes, giving the city a cohesive, flowing ambience.