---

<-- More Cityscapes


<-- More Absolutely Florida

Give Yourself a Present:
Spend Twenty-Four Hours
in the Grove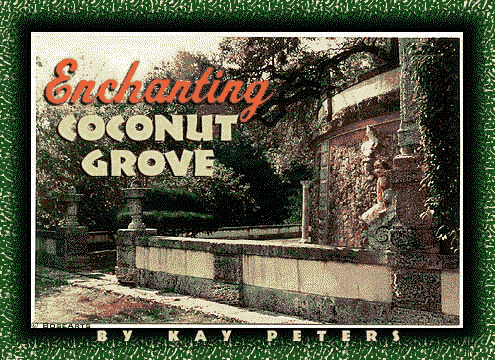 If your vacation this year includes a cruise from Miami to the Caribbean, I urge you to plan a 24-hour stopover in Miami before returning home. Your friends will surely tell you to catch South Beach, and they'd be right. But even better, in many ways, is Coconut Grove. The groovy Grove is a place to play and indulge your senses.

Settled in 1834 by Bahamian seamen, this enchanting, lush tropical village is considered the oldest and most important settlement in Florida because of its location on the edge of Biscayne Bay. Today it provides easy access to Miami International Airport, downtown Miami, the Port of Miami, the Metrorail and all major roadways.

---
Spending 24 hours in Coconut Grove will afford you a new kind of adventure and help reground you after your week at sea. Here are a few suggestions to help you make the most of your short stay.
When you leave your ship early Sunday morning, grab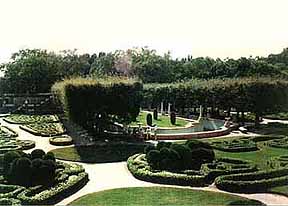 ©BoseArts
A view of the elaborate Italianate gardens behind Viscaya.
---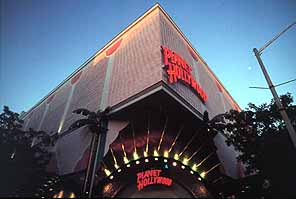 ©Alan Maltz and Greater Miami Convention and Visitors Bureau
Planet Hollywood in The Mayfair Shops is one of the newest Grove hot spots.
---
©Alan Maltz and Greater Miami Convention and Visitors Bureau
Monty's, established 1969 is a Grove landmark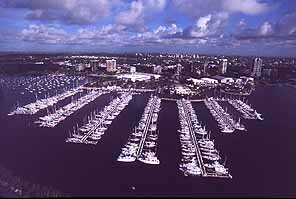 ---
©Alan Maltz and Greater Miami Convention and Visitors Bureau
Dinner Key Marina has been completely remodeled since the hurricane, and has 580 slips.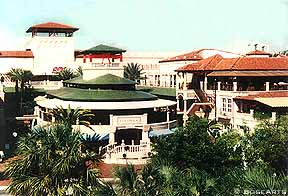 ---
©BoseArts
CocoWalk is right in the hub of the Grove.

a cab or limo to the Grand Bay, a sublime Ciga Hotel replete with luxury amenities and stunning accommodations, and within walking distance of the charming pulse center of the Grove. The hotel will store your larger pieces of luggage, and for overnight all you'll need is comfortable playclothes.

After checking in and dropping off your luggage at the hotel, take a five-minute cab ride to Viscaya, the James Deering mansion built in 1916 to resemble a 16th-century Italian country villa. It has 34 decorated rooms surrounding a central courtyard. John Deere traveled Europe collecting art, furniture and tapestries which still adorn this graceful home. The gardens are exquisite. Just to sit, relax and absorb this spectacular place is a poetic experience you will long remember. The villa and gardens open at 9:30 a.m.; spending a little time exploring them will help get your land legs back.

After touring Viscaya you'll be ready for the superbly executed Grand Bay Hotel Sunday brunch. Prepared by the much-acclaimed Chef Pascal Oudin, the spread features a dazzling array of delectables to tempt even the most experienced cruise-ship-trained palate. The Grand Cafe, with its beautifully detailed dining rooms, floral arrangements and antiquities counterpoint this otherwise thoroughly modern hotel, is one of the most relaxing, delightful places to enjoy a meal I've ever experienced.

After the brunch a bit of exercise is probably in order. A five-minute stroll down Bayshore Drive to Mary Street and a turn to the right will bring you to the Mayfair Shops and CocoWalk Mall. You'll have plenty of time to shop later for some of the gifts you forgot to buy during your cruise, so continue walking past CocoWalk and cross over to Main Highway and follow it to number 3485.

This was the home of a famous pioneer of Coconut Grove, Commodore Ralph Munroe. The Commodore's main thrill in life was designing yachts and boats--the main transportation in the early days of the Grove. He purchased 40 acres of bayfront land in 1886 in exchange for $400 and one of his sailboats, built the boathouse in 1887 and lived in its upper floor until he built the main house, which he named "The Barnacle." Munroe was a naturalist, historian and photographer whose home helps us imagine a simpler time in South Florida. As you walk into this historic estate you'll find yourself surrounded by a special forest called a tropical hardwood hammock, thoughtfully preserved by the Commodore, who cut out only a narrow trail just wide enough for one buggy. The estate is lovely and shouldn't be missed.

If you're thirsty when you leave The Barnacle, cross Main Highway to a wonderful, welcoming outdoor cafe--Greenstreets. The owner, a friendly Frenchman named Silvano, will greet you with a big smile and a warm Grove welcome. Whether you want an extravagant frozen alcoholic beverage or a refreshing iced tea, you'll be pleased to sit, rest and people-watch. You're sure to observe some fairly mad-looking types whizzing by in very scanty beachwear on skates, bikes and motorcycles. There are even rickshaws pulled by hunky young Adonises; it's a riot to watch them go by with their screaming patrons. Greenstreets is a fun vantage point for what's happening in the Grove, and Silvano's drinks are as generous as he.



After the refreshing pause the shops will beckon. The Grove doesn't miss a beat in retail savvy. On your walk back to CocoWalk via Commodore Plaza to Grand Avenue, stop in at Details, a great shop for ceramic art. Cross Grand Avenue from there and go to Maya Hatcha, chock full of divine ethnic clothing for both sexes and very special hand-carved "objets" from Bali and Thailand. Wherever you walk here you'll see shops featuring a kaleidescope of clothing: from tee shirts to evening clothes.


If you manage to get past all of the above and you still haven't made a purchase, CocoWalk appears on your left. This past year 35 films used CocoWalk as part of their location shots, and you're sure to find something you can't live without in the shops here. If you want to look at only black fashions, try the Black Market; if white is your color scheme, shop the White House. There are Banana

Republic, The Gap, Express, Waldenbooks, and more. Next door in the Mayfair Shops you'll find Structure, Planet Hollywood, Bath and Body Shop, The Limited, and a huge and wonderful health-food store called Oak Feed. When you think you've checked it all out, there'll be still more to discover, including Baby Gap and Borders Book Store and Cafe, which features live music and comfortable seats for browsing .


When you can't take any more shopping and 5:00 has arrived, your next stop should be a unique place called Tu Tu Tango on the second floor of CocoWalk. It's an indoor-outdoor restaurant and bar whose theme is a starving artist's studio in Barcelona. The decor includes original paintings on the walls and untouched canvases hanging from the high ceiling. Local artists perch at their easels, painting away in the middle of the bustling room. Tu Tu Tango specializes in every type of tapas (Spanish hors d'oeuvres) one can imagine. Order a couple with an ice-cold pitcher of white wine Sangria, and savor.

Now take a leisurely walk back to the hotel with your purchases. You could have a quick swim in the pool on the mezzanine level, a massage and a nap before dinner.

When you awaken refreshed and looking forward to dinner, there are a couple of places I especially recommend. If you're in the mood for Italian food, Mezzanotte in Mayfair, on the corner of Mary Street and Florida Avenue, will please you with its Northern dishes. If Chinese food appeals to you, I suggest The Red Lantern on Commodore Plaza just off Grand Avenue. Their delicate and exotic varieties of Hong Kong cooking will tantalize your taste buds with every mouthful.
After dinner you might consider one of the 16 first-run cinemas located in Mayfair and CocoWalk. If you want to "boogie," the groovy Grove doesn't lack for bars, or a movie might be just the ticket. Wind the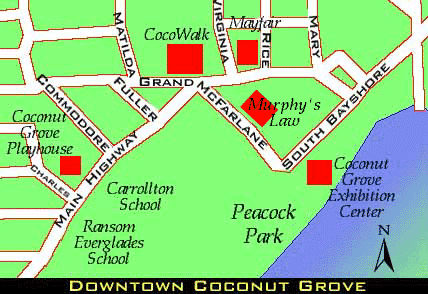 evening up with a nightcap in the Ciga Lounge in the Grand Bay.
In the morning, I heartily recommend breakfast back at Greenstreets, which opens for early risers at 7:00 a.m. Breakfast here is enjoyed by a rash of locals who come by after a jog to chat and hold court for an hour or so before they scurry back to their homes. The food is good and hearty, and people-watching is fun.
Coconut Grove offers plenty of things to do and see that will hold your attention for 24 hours. It's held mine for 20 years!

Kay Peters is a public relations professional and free-lance writer. She lives in Coconut Grove.
---
---
---
---
<