SARASOTA HISTORY

As in many places in Florida, Native Americans were Sarasota's first inhabitants. Evidence of prehistoric mounds and middens peppers the coastline and keys.
Treasure-seeking explorers and conquistadors were the first Europeans to venture into the area, including Hernando de Soto - and legend has it Sarasota was named after his daughter Sara.
Ca d'Zan
by Pat Keeche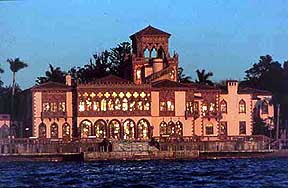 The 30-room Ringling residence is among the most charming creations of 1920's interest in ornately decorated mansions for the rich and famous. In the traditions of Hearst's San Simeon and Deering's Vizcaya, Ringling's Ca d'Zan represents the American domestic architectural preoccupation with historical styles during the period.

The rooms of the mansion reflect the Ringlings' tastes and times, showing a glimpse of the private life behind the mansion walls by presenting many of Ringlings' decorative art objects as well as a portion of tapestry, silver, porcelain and furniture collections.

The estate's garage was converted to The Ringling Museum of the American Circus, celebrating its 50th year in 1998. Rare handbills, posters, sequined costumes, miniature circuses and elaborately carved circus wagons are just a part of what you will see.

In 1843, a young adventurer named William Whittaker settled in the Sarasota area, and gradually the area was built up by hardy colonists, including a ship of settlers from Scotland. Among these was a man named John Hamilton Gillespie - who later introduced golf to Sarasota, building Florida's first golf course.

An influx of wealthy socialites settled the area starting in 1910, setting the tone for Sarasota as a winter location for the cultured crowd which continues year-round to this day. In fact, the performing and visual arts in Sarasota had been established before most Florida cities even had post offices.

During a real estate boom in the '20s, circus magnate John Ringling and his wife Mable constructed their magnificent winter residence "Ca'd'Zan" ("House of John"), and a museum to house their extensive art collection. The mansion, modeled after the Dode's Palace in Venice reflects Ringling's interest in Italian Art & Architecture and the museum has one of the largest Baroque collections in the world. Ringling also made Sarasota the winter headquarters of his world-renowned Ringling Brothers Barnum & Baily Circus.
---
Photos courtesy of the Sarasota Convention & Visitors Bureau