OCALA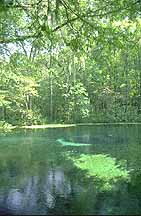 Settled before the time of recorded history, probably by the Timacuan Indians, whose presence was noted by Hernando de Soto in 1539, Ocala was named county seat of Marion County in 1846.

By 1890 Ocala was one of the largest towns in Florida. Nearby Silver Springs had become an international tourist draw and the first Florida attraction. Rich in natural resources, the area was ideal for raising horses and livestock, and Ocala is now perhaps the pre-eminent addresss of the thoroughbred industry. There are hunderds of horse farms of every type. The area is proud to claim 37 Florida-bred national champions. Many horse farms are open to the public, and there are frequent sales and shows.

If you love nature and the outdoors, you can't help but love Marion County. With more than 430,000 acres of national forests and over 200 spring-fed lakes and rivers, there's so much to enjoy. Canoe or boat down the Juniper, Rainbow or Ocklawaha Rivers. Take a glass-bottomed boat ride at world-famous Silver Springs or take a jungle cruise through pristine wilderness. There are lots of fishing opportunities, of course, and the year-round beautiful weather makes all kinds of watersports a fun option. There's a terrific waterpark, Wild Waters that offers fun for all the family. The Don Garlits Museum of Drag Racing is a drag racing fan's dream, with a superb collection of cars and memorobilia.
---
---