By Simon Lewis
Marco Island is located off of Route 92 in Southwest Florida, and is the only developed island in the Ten Thousand Islands area.

We took the Tamiami Trail directly from Miami to Marco Island, and made the crossing in an hour and a half. It's hard to believe that this 2-lane road which cuts right across the wildest section of the state starts off as 8th Street in Miami, the heart of Elian Country. Sure, there are other ways to get across the Everglades - Alligator Alley, I-75 -- but the Trail is definitely the way to go. Route 41 is quiet, picturesque, a ride you won't find anyplace else. Our kids, 16 and 12-year old daughters Leli and Lushka watched wide-eyed from the back seat as huge expanses of sawgrass from horizon to horizon rolled past, then dense foliage teeming with wildlife, suddenly an Indian village or airboat ride attraction. We timed the crossing to coincide with the sunset which really made it special, magical. Watch out for the panther crossings! Headlights on for safety! It's wild out here.

Suddenly about 20 minutes after Everglades City (more on this later) we're there -- left turn on Rt. 92, over the huge hump-backed bridge where you can catch a glimpse of the Marco Island community laid out before you as you head east to the beachfront. We're staying at the Mariott Resort, voted one of America's best by Conde Nast Traveler, so you know it's got to be great. But it's more than just great - it's sensational!

Overlooking the Gulf of Mexico with 3 1/2 miles of pristine beach to wander over, this is a good spot to start some serious relaxation, which is what Marco Island is all about. Carved from the Ten Thousand Islands back in the '70's (as in 1970's) Marco was created as a holiday home, retirement community and tourist destination, rising from the countless mangroves, inlets and waterways to the north, south and east as a lone outpost of civilization.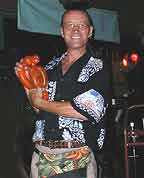 There's always something fun going on at Quinn's on the Beach

It was cocktail time, so we got straight to it after an efficient and welcoming check-in. Catching the last rays of a magnificent sunset-scape. . . (ahhhh, that's better), we started to feel like were really on vacation, even if was just for a weekend getaway. What's this? A Miami Vice?? The unlikely combination of a strawberry daiquiri AND a pina colada, somehow kept separate in the glass...yummy! An entertaining and clever fellow created balloon animals for the kids which they treasured until they went out with a bang. Then it was time for dinner at the popular Quinn's on the Beach, right nearby.

My plaintain-encrusted mahi-mahi was fine, fresh as can be, and expertly prepared. My wife Babs had the seafood cheesecake (more delicious than it sounded!) More drinks, brilliant desserts that met with the girls' approval, then off for a late night stroll on the empty beach past the cordoned-off loggerhead turtle nests. A "turtle lady" keeps watch over these amazing endangered reptiles, to save them for future generations. But she must've been in bed because the full moon wasn't out, and the eggs weren't ready to hatch. The kids were fascinated. The sound of the warm Gulf waters gently lapping the shore and the inky black night sky devoid of nearby city lights reminded us we were truly away from it all.

Back in our lanai style suite which gave out to a nicely private deck and the pool area, I finally had a chance to take in our interior surroundings. Very lush and plush!

Next morning it was time to take in the exterior. There's no better or more fun way of getting a feel for the place than renting a waverunner and taking the guided tour of the surrounding area. The water isn't deep, and the waverunners are easy to operate, as we scooted single file along the gentle inlets The kids stayed behind, anxious to explore the resort grounds - which could take all day! There's a miniature golf course, kiddie pools, grown-up pools, acres of tropical gardens, ping pong, a video arcade, shops, volleyball, T-ball and of course, the ocean, the beach and endless shelling.

Our guided waverunner excursion was easily arranged at the hotel. You need a guide because you could easily get lost in the thousands of mangrove inlets, which can become a maze that you might never escape from. In fact, this area is called the Ten Thousand Islands (although there are actually close to 14,000 islands) - all uninhabited except for Marco Island.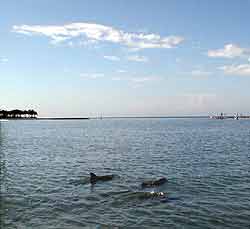 Pods of dolphin are a usual site along the Marco Island coast,

It was sublime . . dolphin families were out feeding, manatees, nesting birds under the tropical Florida sun. Watch out! that's a man-eating crocodile over there! (just kidding) It's so unspoiled all around, so pristine.

I'm not a golfer, but if I was, I'd be in seventh heaven since the Marco Island Marriott is also an outstanding golf resort. The award-winning 18-hole championship golf course is carved from a pine forest that twists through cypress swamps, lagoons and marshes, all teaming with wildlife such as gopher tortoise, alligator, brown bat, and black bear to name a few.

But I am an avid tennis player, so after our refreshing waverunner excursion I took a tennis clinic on one of the 16 courts there while my Babs took "aquaslimnastics" at one of the pools. The folks at the tennis center even paired me up with another chap from England for a rousing match, which left me ready for an aromatherapy massage at the spa. plans are underway for a larger

That afternoon we regrouped for a wonderful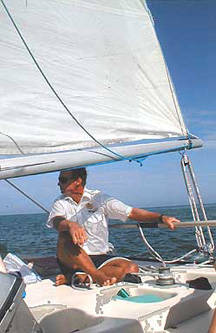 Captain Quinn navigates a catamaran for a fascinating shelling expedition, courtesy of the Marco Island Marriott and Golf Resort.

excursion aboard a catamaran, skippered by Captain Quinn, a very knowledgeable eco-expert. He showed us how shells are born and taught us about the wonderful ecosystem of mangroves, which come in a few varieties, the abundant varieties of gamefish and birds. He was a virtual font of eco-wisdom.

That sun-soaked day left us ready for a nap and a late dinner, this time at the Ristorante Tuscany, a fine Italian restaurant with an atmospheric piano tinkling away in the background. Exhausted and sated after another fine meal, we all collapsed back in the room and woke early the next day, ready for the next day's adventure - an Everglades safari by airboat. The kids were determined to see alligators!

We made our arrangements through the hotel, but it's also easy to make your own plans. We drove about 25 minutes southeast to Everglades City which we passed on the way - it's a tiny outpost that seems to consist of one or two streets that jut out into what looks like a river, but is actually part of the Everglades. The local bed & breakfast, called On The Banks of the Everglades, is a charming converted
On The Banks of the Everglades Bed and Breakfast in Everglades City occupies a bank building.

Victorian-style bank building. Captain Doug House's Airboat was waiting for us as we clambered aboard for our next nature lesson.

This was still the dry season, so at this time of year (Spring), the waters were relatively low, frustrating our quest for gators, since they had gone inland seeking fresher water. The lack of rain causes the water to become saltier than they like it. Still, it was a neat ride zooming noisily in the swampy maze of mangroves and jungle, spotting huge cranes, eagles, vultures, owls, ibis, and leaping fish. Captain House stopped and pulled up a crab trap with some very large blue crabs inside. You can't get fresher seafood than that!


Catch a gator show across the street from Captain Doug House's airboat concession in Everglades City.

After the airboat ride we went across the street for a bit of reptilian fun. Billy, the Local gator expert demonstrated their collection of snakes, iguana, and gators of all sizes, from cute babies to ferocious, frightening adults. Billy sat astride one very large gator named Nancy, who hissed and snapped at him loudly. Later on we took a ride to try and find some gators in the wild for the kids to photograph, so we headed east and pulled over near a canal, and sure enough, we spotted the classically sinister profiles poking out of the water.

After all this rugged stuff, we were all glad to return to civilization. So we took a sidetrip slightly north - about 30 minutes - to Naples (click here to read about Naples) and enjoyed a fine lunch and look around the shops and galleries before checking out and heading back to Miami. There was still lots of fun we didn't get a chance to try at the resort - parasailing, water-skiing, kayaking, bicycling, hobe cats . . . next time!